Reform of financing & investment system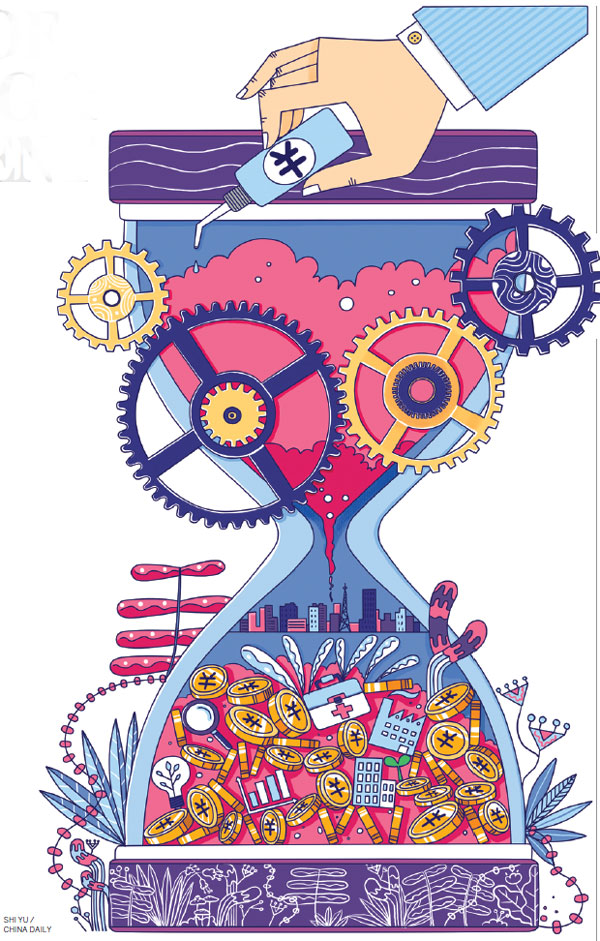 Nation plans to further liberalize business environment to create a fairer and more enhanced rule-based market
Private firms are happy to see that investment restrictions are to be further lifted, as China aims for further steps in reforming its investment and financing system, encouraging social investment participation with more compliant requirements, including for project planning and fire prevention.
The State Council's executive meeting, chaired by Premier Li Keqiang on July 5, decided to further lift restrictions on private investors, while more measures to simplify project approvals are in the pipeline.
The meeting also urged that more high-quality assets be used in Public Private Partnerships (PPP) to attract a greater number of social investors, as well as using returns in such projects for new programs in infrastructure, public services, poverty alleviation, and the Made in China 2025 strategy, according to a statement after the meeting.
Chen Bing, head of a juice production company based in Suzhou, Jiangsu province, was excited to learn of the latest development. The 34-year-old is planning to open another juice production plant in another city in Jiangsu, but was hesitant as opening any new plants means getting a raft of approvals for fire prevention equipment and sanitary facilities.
"I am just afraid that it will take a very long time before the plant really starts operations, which may change our profit outlook," he said.
Xiao, a construction design engineer who has been working with the city planning department of Beijing for over a decade and requested that her full name not be used, said she appreciated the lifting of restrictions. "On some occasions, it can take a long time and it is complicated for an investor to meet the demands on fire prevention and project planning when building a new factory plant."
One project, she recalled, in particular was a private company that manufactures sewage treatment facilities in Beijing. The project, which started construction last year, failed to meet fire protection requirements during construction. It took the company more than a year to make adjustments and start operations.
Xiao said that while requirements regarding fire control are important, the current requirements and restrictions are sometimes too complicated, and efforts in meeting such requirements may lead to delays in operations and a loss of business opportunities for private investors.
Wen Bin, chief economist at China Minsheng Bank, said given the fact that China is transforming to a more consumption-driven economy from one driven by investment and exports, steady growth in investment is still important, as it helps the economy to grow in a proper range, while steadiness in social investment helps to build positive expectations for the economy.
"Consumption contributed to about 64.6 percent of China's economy in the past year, and services have surpassed manufacturing in terms of contribution to growth, signaling that China is performing well in its supply-side structural reform. But investment still needs to be consolidated in maintaining steady economic growth, especially in areas of infrastructure and the real economy," Wen said.
There is still a huge potential to be tapped for PPP programs, Wen said.
There are about 12,000 PPP projects across the country, Wen said, but many such projects are not composed of high-quality assets from the government side, making them less attractive to private investors.
"Some PPP projects in areas such as irrigation and environmental protection may lead to long-term operations, slow payback and low profits, but they will bring goods and enhance people's livelihood in the long term," Wen said. "The government must use a variety of financing tools to encourage private investors to participate, while making them more inviting to social capital, large or small, to accelerate more of these projects."
In recent years, China has streamlined administrative reviews, focusing more on compliance oversight to make the business environment easier for private and foreign investors.
China's private investment grew at 7.7 percent for the first quarter in 2017, a 2 percentage-point increase compared with the same period last year.
Premier Li has stressed a number of times that investment plays a vital role in boosting demand and consolidating employment.
Since 2013, the number of projects requiring approval from the central government has reduced by 90 percent, while the time required from approval being granted has also been reduced by 90 percent in some places, according to government statistics.
The premier also said when meeting with a group of economists and entrepreneurs on Thursday that aggregate demand will be appropriately expanded while effective investment, especially private investment, should be boosted to enhance the driving force that domestic consumption has provided.
More policy and market regulation innovations are in the pipeline to create a fairer and more enhanced rule-based market environment, as decided at the executive meeting on July 5. The upcoming measures will create a level playing field for investors from home and abroad, boosting steady private investment growth, according to the meeting.