The great thaw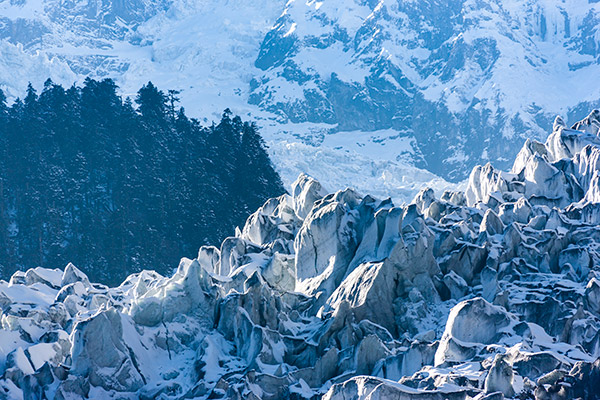 Mingyong glacier in February 2015. The glacier sits at an elevation of nearly 3,000 meters above sea level.[Photo provided to China Daily]
Mingyong glacier - a freshwater bank in Southwest China - is shrinking. Located near the Qinghai-Tibet Plateau, a world hub of ice and snow, it underscores the reality of climate change
An elderly woman clutches onto two sticks as she walks up the narrow path of a mountain attached to the Meili range in Deqen county in Yunnan province on a recent weekday. Catching her breadth from time to time, she follows her younger companions on the 4-kilometer trek, which is often interrupted by herds of ponies carrying cement and rocks for repair work at a temple that pilgrims like her seek to visit. Prayer banners of different colors flutter in the wind above their heads.
Their climb will not end until they have reached a higher observation deck from where the Mingyong glacier is visible in its full splendor.
Located in Southwest China at an elevation of nearly 3,000 meters above sea level, the glacier-a sacred site in Tibetan Buddhism-draws hundreds of pilgrims and tourists from home and abroad each year. For locals, it is a source of freshwater that feeds several streams in the province's northwest, and can be used for irrigation and drinking.