Drug crimes decline, but fight continues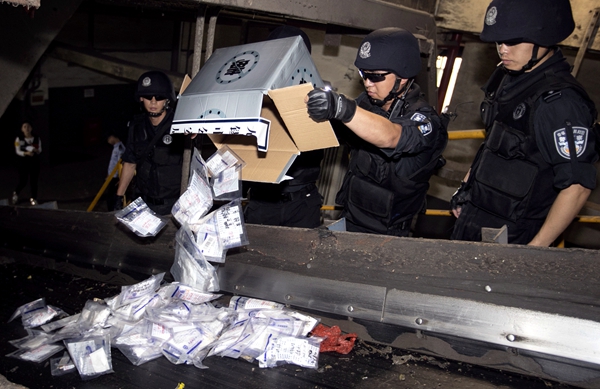 Police burn more than 20 kilograms of illegal drugs in Wuxi, Jiangsu province, on Thursday. The drugs included heroin, methamphetamine and marijuana. Provided To China Daily
With drug crime remaining at a serious level in China, courts have increased their efforts to target offenders at all stages of the narcotics trade over the past five years, according to a top judge.
"We've strictly penalized those who transport, produce and purchase drugs, while criminals engaged in drug-related activities over a long time are our major target and are given heavier punishments," said Ye Xiaoying, chief judge of No 5 Criminal Tribunal at the Supreme People's Court.
Although the number of reported drug crimes declined last year, Ye said the situation remains serious.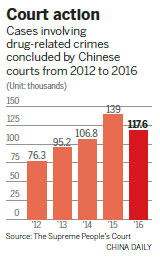 She said those convicted in drug crimes often are sentenced to five years or more in prison, which is classified as a "heavy penalty" under Chinese Criminal Law.
"We also severely punish people who commit offenses such as homicide after taking drugs, because their behavior seriously harms others and public order," she added.
Between 2012 and 2016, Chinese courts handled 541,342 drug-related cases, of which 534,884 were concluded, according to the top court. In the same period, 543,355 people were punished, of whom over 119,000 were given five years or more in prison.
Cases linked to drugs accounted for 10.5 percent of all criminal cases Chinese courts heard last year, compared with just 7.7 percent in 2012, she said.
The top court said southern parts of China have been hit hard by drug crimes, and Guangdong province often ranks first in such cases.
From 2012 to last year, courts in Guangdong concluded 94,853 drug-related cases, followed by Hunan and Zhejiang provinces, it said. Guangdong has seen a surge of drug-related crimes in the past few years, the top court said.
"Guangdong, next to Hong Kong and Macao, is a drug distribution center for people involved in the trade from home and overseas, and drug traffickers have never stopped their drug-related crimes there," said Guo Shaobo, deputy director of Guangdong Public Security Bureau.
Guangdong has about 654,000 registered drug addicts, more than anywhere else in the country, he said.
On Tuesday, the top court released information on 10 drug cases. In one, a Guangdong native who had manufactured large quantities of drugs in the Guangxi Zhuang autonomous region was sentenced to death.
Ma Yan, deputy chief judge of the top court's tribunal, said there are as many as 100,000 ketamine users in the country. Ketamine is a powerful drug intended for use primarily as an animal anesthetic. The number of people producing the drug for illegal use is rising rapidly.
"Guangdong is the place where many make ketamine," he said.