E-commerce giant launches robot courier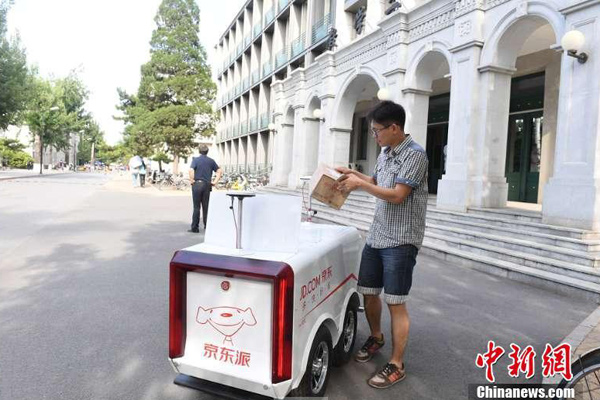 A student picks up a delivery from a JD.com robot courier at Renmin University in Beijing on June 18. [Photo/Chinanews.com]
JD.com Inc, one of China's biggest online marketplaces, has launched its first robot couriers.
A robot courier delivered the first item to Renmin University, the alma mater of CEO Liu Qiangdong, in Beijing on Sunday. Other schools the robot couriers sent packages to include Tsinghua University, Zhejiang University and Chang'an University.
The vehicles follow optimal routes based on calculation, and send messages to recipients five minutes before reaching the destinations. The recipients obtain the packages with facial recognition or by inputting a code.
The robot couriers, equipped with laser radars and cameras, are capable of avoiding obstacles on routes and recognizing traffic lights. With different sizes, they move three to four km/hour and can deliver six to 20 items in one trip.
JD.com will further expand its fleet of robot couriers to more than 100 this year, mainly in universities and residential communities in Beijing, Hangzhou of Zhejiang province, and Xi'an of Shaanxi province.