Daughter sends imprisoned father a letter every week for five years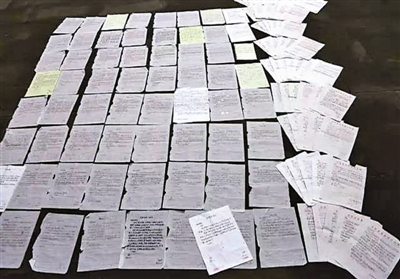 Some of the letters from Jiang Niannian to her father.
The love between a father and a daughter cannot be separated by anything, even the wall of a prison.
When a man surnamed Jiang began serving his prison term six years ago, he started receiving a letter from his 8-year-old daughter every week, Chengdu Business Daily reported, citing Sichuan provincial prison administration.
Jiang, currently serving his term at a prison in Dazhou, southwest China's Sichuan province, received 260 letters in total from his daughter Jiang Niannian.
"Daddy, we will take the exams next Thursday. I'm feeling a bit nervous. But when I think of the summer vacations after that, I feel happy. Wish me luck with exams, OK?" She wrote these words followed with a smiling emoticon.
The short letters, each about 100-200 words, were a big encouragement to Jiang.
In a letter that brought Jiang the most pride, Niannian told him that she got the first place at the middle school entrance exam in the whole county. "Mom is very glad that I scored well, and has promised to take me somewhere. Haha! I'm so happy."
Jiang was sentenced to 10 years in 2011 after he was convicted of abusing his official position as a civil servant.
When he went from a public servant to a prisoner, Jiang once felt hopeless and down in spirits. But the letters helped him regain confidence and his good behavior got him his sentence commuted by more than one year.
Niannian began writing the letters at grade 2 at primary school and continued until she graduated from primary school at grade 6.
"In the beginning, Mom asked me to write to Dad. Back then, I did not know what to write," Niannian said, adding that her mother told her to write about her daily activities and gradually she developed the habit of writing a letter a week.
Now 14, Niannian is a grade 2 student at middle school. "To help my father feel better, I study hard and hope that I could make money in the future."
"The most important thing is that we want Dad to return home as early as possible. My mom and I could afford to support him," Niannian said with a smile.