Rocket Force more versatile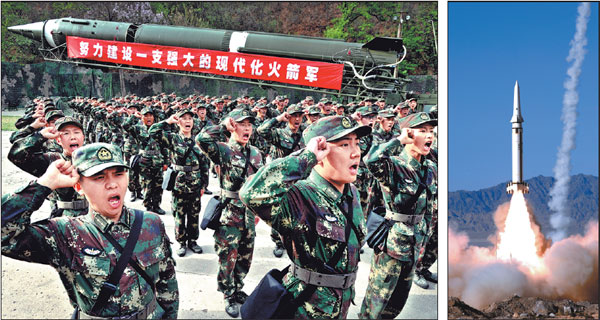 Left: Soldiers take an oath to defend the country. Feng Gensuo / For China Daily Right: The PLA Rocket Force launches a ballistic missile. Song Yuangao / For China Daily
Advanced weaponry, training boost specialized unit's combat readiness
The People's Liberation Army Rocket Force has become more versatile as its missiles have become "smaller, more powerful and more accurate", the force said recently.
In the past, missile launches were carried out by top soldiers handpicked from a whole brigade, but now any launch team randomly drawn can carry out a mission.
All of the Rocket Force's missile brigades are able to independently launch missiles, and all have taken part in realistic war games with adversary units, according to a news release.
On-duty cells are ready to fire missiles immediately when ordered, it said.
The new-generation missiles feature a higher level of automation and good anti-jamming and penetration capabilities. And a number of modern launch facilities that are capable of firing various types of missiles have been built across the country.
The Rocket Force has commissioned many mobile launch vehicles that can travel long distances by road and operate in rough terrain, enabling the firing of missiles anytime and anywhere, according to the news release.
The force has launched hundreds of missiles in live-fire exercises over the past several years to improve its combat readiness. The missiles were fired during about 40 exercises within the force itself, as well as during more than 30 joint drills between the force and other military branches and regional theater commands, according to the release.
In another development, the Rocket Force recently published a number of video clips about its units' training and live-fire drills. One of the clips shows ballistic missiles being launched during exercises, including footage of a volley of seven short-range ballistic missiles and the launch of an intercontinental ballistic missile.
Another video showed how an intercontinental ballistic missile brigade trained in a monthlong underground survival exercise in an unidentified facility "beneath mountains".
Such disclosures are unusual. The Rocket Force doesn't typically publicize how its intercontinental ballistic missile brigades operate, let alone in a highly classified underground facility.
The force has become a vital pillar of China's strategic deterrence system and will play a leading role in safeguarding the nation's sovereignty and interests, military experts said, noting the force is also becoming increasingly confident about exhibiting its capabilities to the outside world.
The PLA Rocket Force was established in December 2015 to replace the former PLA Second Artillery Corps, which had managed the country's ballistic missiles since the 1960s.
At its founding ceremony, President Xi Jinping urged the force to improve its nuclear deterrence and counterstrike capacity, and also to strengthen its medium - and long-range precision strike ability.
According to PLA Daily, the Rocket Force has at least nine types of missiles in active service, including the DF-31A intercontinental ballistic missile, the DF-26 intermediate-range ballistic missile and the CJ-10A ground-launched cruise missile.