China leads the pack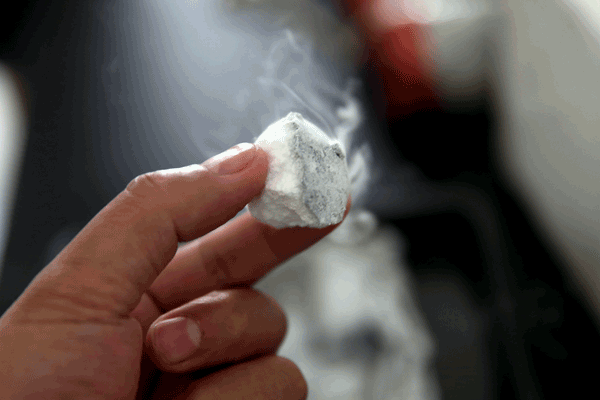 A researcher shows off combustible ice in a laboratory in Zhuhai, Guangdong province. GUO JUNFENG/CHINA DAILY 
Leader on global stage
China is not the first country to try mining flammable ice. Japan made headway in 2013 and again last month, while the U.S. government also been conducting research into the clean fuel for years.
However, no progress has been made mostly because of technological barriers.
The successful mining of gas hydrate has absolutely made China into a forerunner in the clean energy mining field, Han said, even though it has trailed behind international peers in the exploration of oil, gas, shale gas and coal mining. The lack of technology or experience to borrow or learn from makes China's success of even greater value, Han said.
The gas hydrate, which usually is located frozen deep in the Earth, requires advanced technologies and a comprehensive national strength, he said.
Once China comes up with a steady output of hydrate gas in the future, international cooperation would be needed, as much of the gas hydrate is frozen deep beneath international seas, he said.
According to Qiu Haijun, director of the trial mining headquarters, many countries along the 21st Century Maritime Silk Road have a demand for flammable ice mining.
With advanced technology, Qiu said, the gas hydrate could help resolve the problem of energy resources and boost economic development and exchanges between countries.
Deep-sea capabilities
The test drilling and production operation conducted by China International Marine Containers Group and China National Petroleum Corp created a solid foundation for commercial use of the resource before 2030 and the test-drilling will help facilitate China's deep-sea exploration capability, said Li, of the China Geological Survey.
According to Jin Qinghuan, an academician with the Chinese Academy of Engineering, China will complete the initial preparatory work for commercial production by 2020, including mining technologies and evaluation of seabed natural gas hydrate. By 2030, China will carry out commercial production.
Blue Whale 1, the ultra-deep-water semisubmersible drilling rig built by the nation's largest semisubmersible platform manufacturer, China Yantai CIMC Raffles Offshore Ltd, conducted the tests in the South China Sea.
Mai Boliang, president of CIMC, said Blue Whale 1 is the world's most advanced ocean drilling platform design and it was important practice for CIMC to further enhance China's high-end energy exploration equipment.