China leads the pack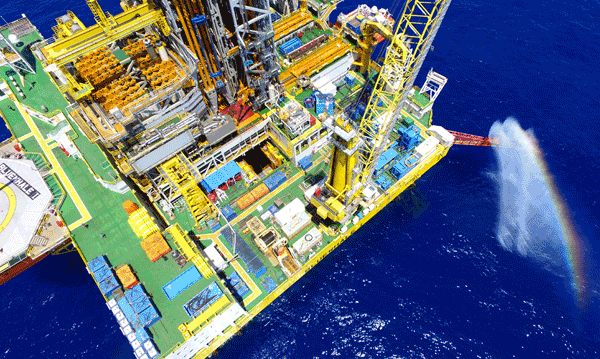 A platform is used to collect combustible ice in the South China Sea recently. GUO JUNFENG/CHINA DAILY
Editor's note: In the run-up to the 19th Communist Party of China National Congress, China Daily will cover a series of key projects of national importance, showcasing the country's huge improvement and relentless efforts in manufacturing upgrade and innovation.
Though still 15 years from commercial use, so-called combustible ice and its successful mining in China is seen as a breakthrough toward a global energy revolution.
Chinese researchers have explored some 210,000 cubic meters of combustible ice trapped in frozen crystals in the South China Sea in the 30 days since a test drilling and production operation in early May. Daily production reached 6,800 cu m.
It will be another energy revolution, led by China following the US shale revolution, reshaping the global energy mix, said Li Jinfa, deputy director of China Geological Survey, which is under the Ministry of Land and Resources.
Reserves of gas hydrate, as combustible ice or flammable ice is known, in the South China Sea are estimated at 80 billion metric tons of oil equivalent, he added.
The ministry said it would formulate policies to encourage participation in the exploration of various types of combustible ice, while aspects including exploration block delineation, granting of licenses for mining, mining registration and development will be given priority to pave a path for commercialization of the frozen fuel.
According to a report on China's energy and mineral geology survey in 2016, China's gas hydrate could last the country for 100 years and could well be China's next big opportunity in energy.
China's choice of vigorous expansion of flammable ice mining at the moment is due to its urgency to replace conventional energy to optimize the energy structure and relieve problems caused by energy shortages, analysts said.
The nation now relies heavily on crude imports. Successfully mining flammable ice will substantially boost its energy security while lifting the country's clean energy production technologies to a new level, said Lu Hailong, a professor at the Institute of Ocean Research at Peking University.
Han Wenke, director of the Energy Research Institute at the National Development and Reform Commission, said environmental concerns had been pushing China to further upgrade its energy mix. Right now, China has a relatively high proportion of coal, which creates heavy pollution.
According to the International Energy Agency, China has been increasingly relying on imported oil as demand increases, and it is estimated that China's reliance on oil imports in 2020 could be even greater than the government's plan suggests.
All these are pushing China toward a cleaner fuel alternative.