Turning negatives into positives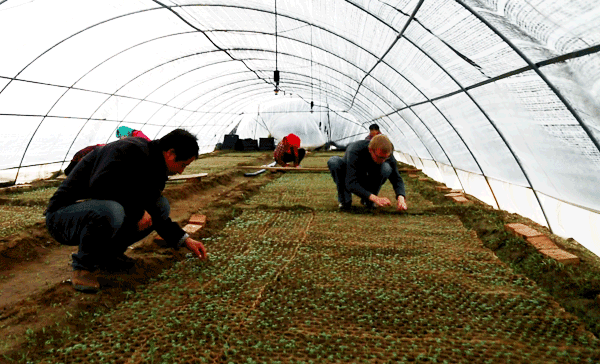 China Daily's Erik Nilsson (right) works in a greenhouse in Desheng.YUAN QINGPAN/CHINA DAILY
"Your text here. Your text here."
That was the writing on the wall.
Those were the English words printed on the kitchen wall tiles below "red wine", which was rendered in calligraphy next to images of (not wineglasses but) the coffee cups of the farmhouse we were staying in.
Likely because of linguistic confusion, nobody inserted text into the template - or knew they could and perhaps should.
I'd guess the owners still have no idea what their walls say.
It's quirky, but ultimately unimportant.
Either way, they're happy to occupy a modern abode.
The houses are among the dwellings recently built for villagers, who still primarily occupy traditional brick-and-adobe homes.
But the new houses cost about 30,000 yuan ($4,400) to buy in a community where the average annual income floats at about 6,000 yuan.
Our media team had traveled to Desheng village in the parched outskirts of Zhangjiakou, Hebei province, to report on poverty initiatives that turned the arid weather's disadvantages into advantages through solar-powered farms.
That's as the village also soothed the shock of extreme daily temperature fluctuations through subsidized greenhouses.
Shepherds herd sheep, whose hoofs punch cloven divots into soil broiled by droughts until it fractures into curled plates in front of a solar farm next to clusters of greenhouses standing in front of wind turbines that twirl like giant pinwheels.
The problems were apparent in the foreground. The solutions were in the background.
Yet their positions are inverting, in terms of quality of life.
The area is known for exceptional mutton, and I'd agree it deserves the reputation.