Plane maker aims at emerging niche
About 1,000 general aviation aircraft will be sold in next 3 years, AVIC says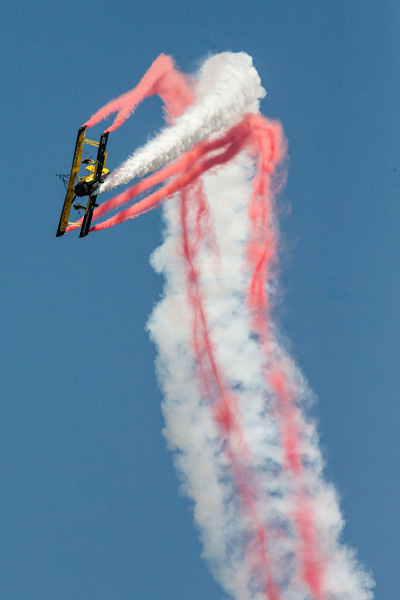 A biplane from AVIClub, a major general aviation club in China, spews contrails at a show in Anyang, Henan province, last month. [Photo/Xinhua]
China's largest aircraft manufacturer projects that it will sell around 1,000 general aviation aircraft by the end of 2020, an industry insider said.
Song Qingguo, a senior manager at Aviation Industry Corp of China who assists company executives in overseeing the general aviation sector, said the central government plans to expand the number of China's general aviation aircraft from the current 2,400 to 5,000 before the end of 2020, and AVIC wants to grab at least 40 percent of the market share.
General aviation refers to civil aviation operations rather than scheduled passenger or freight services. The most common general aviation operations include pilot training, charter flights, tours, medical services, mapping and surveying, maritime inspections and crop dusting.
Aircraft used for general aviation usually are small, fixed-wing airplanes and lightweight helicopters.
Data from AVIC show the State-owned aviation giant sold nearly 400 general aviation aircraft last year, though the company declined to say how many were sold to domestic buyers.
Song said that during the same period, AVIClub, which he said is the biggest general aviation operator and flight club in the country, will add about 300 new aircraft to its fleet. He said AVIClub owns more than 200 general aviation aircraft.
Song made the remarks recently at the Anyang AVIClub Flight Carnival in Henan province. The event, the first of AVIC's annual flight carnivals this year, attracted performances from several domestic and foreign aerobatic teams.
AVIClub is a subsidiary of AVIC and operates at least four general aviation airports in China.
The government published a set of guidelines last year to boost the development of the general aviation industry. Supportive measures include the construction of about 400 airports dedicated to general aviation and encouraging more use of general aviation aircraft in the public sector.
Song said that although the nation's general aviation industry is rapidly expanding, it lags far behind the United States.
The US has about 220,000 general aviation aircraft and nearly 30,000 airports and other takeoff and landing points that can handle general aviation operations, he said. Statistics from the China Air Transportation Association show there are fewer than 100 airports or other fields for general aviation operations on the mainland.
Hunan Daily quoted experts from Aero Engine Corp of China as saying in a report on May 30 that 75 percent of general aviation aircraft sold on the Chinese mainland were made by foreign companies, and the domestically produced ones are mainly powered by foreign engines.
Wang Yanan, editor-in-chief of Aerospace Knowledge, said the development of the general aviation industry can catalyze innovation in science and technology and can benefit many surrounding industries, so the government should relax its tight control on low-altitude airspace and make laws to facilitate the sector's growth.