What do top gaokao scorers do after university graduation?
Editor's notes: Gaokao's top scorers have long been worshipped in China. Known as the zhuangyuan, the highest achiever has been elevated to celebrity status and rewarded with riches and glory. But what would you expect a zhuangyuan to do after their university graduation? Let's take a look at five top scorers from different regions around China.
1. Shi Yue
Inner Mongolia's top scorer in science in 2006
Admitted to Tsinghua University
Now a live vlogger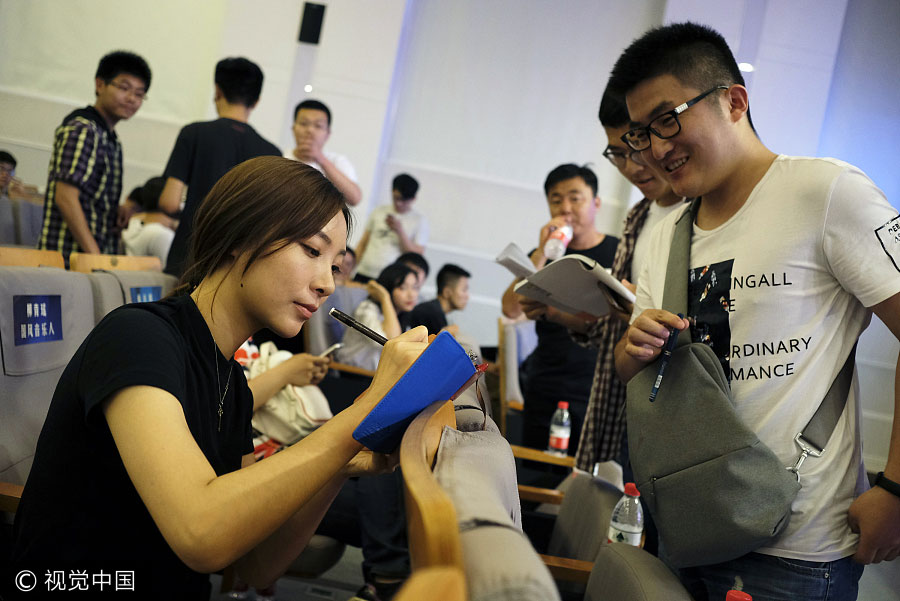 Shi Yue, a live-video blogger has more than 1 million followers on Sina Weibo, the Chinese equivalent of Twitter. She signs her name for a fan during a new media entrepreneurship camp at Renmin University of China on May 25, 2017. [Photo/VCG]
Shi Yue was the 2006 gaokao top scorer in science in north China's Inner Mongolia autonomous region and went on to study architecture at Tsinghua University. Now she also holds a master's degree in urban planning from Peking University.
In February 2015, Shi Yue opened a "chat room", live-streaming herself playing and talking about online games.
She has developed a huge following as a live vlogger sharing her life online. Due to her distinctive presentation style and outstanding educational background, many have questioned her job choice, wondering why she did not choose a more respected occupation, such as an engineer.
Shi said she gets her interest in playing from her father, who liked playing games when he was young.