Torrential rain leaves six dead, three missing in China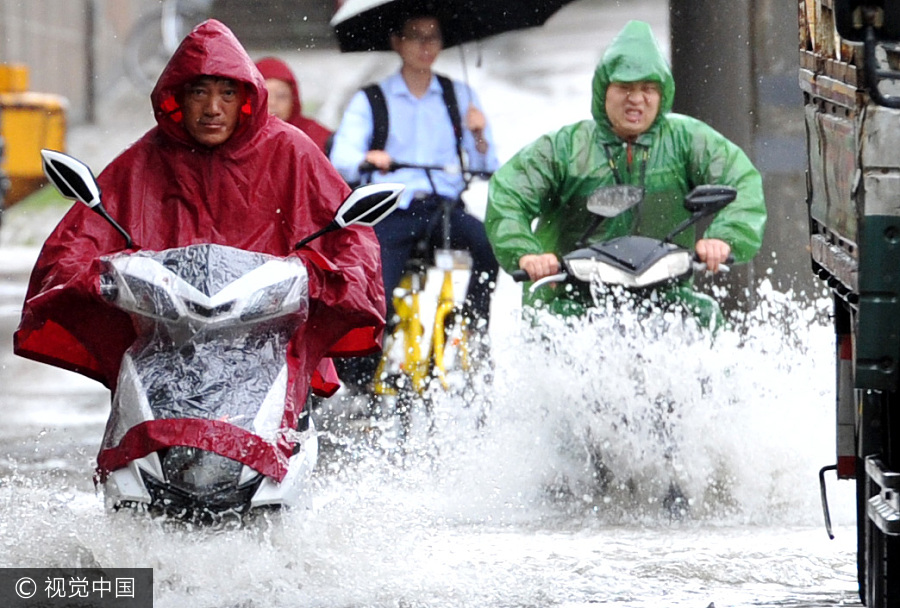 People ride through a flooded street in Nanjing, capital of east China's Jiangsu province, June 10, 2017. On Saturday, Nanjing upgraded its "heavy rain" alert to red, the highest in China's four-tier weather warning system. [Photo/VCG]
WUHAN - At least six people died and three others remain unaccounted for after torrential rain lashed southern parts of China from Thursday to Saturday.
Four people died and two are missing in Hubei Province. Two died and another remain missing in Chongqing Municipality, authorities said Saturday.
Heavy rains, coupled with windstorms, caused floods and landslides in several cities in Hubei. A total of 171 houses collapsed, and about 649 people have been evacuated, according to the provincial civil affairs department.
In Chongqing, over 1,300 people have been relocated because of damages to their houses, the municipal flood control and disaster relief headquarters said.
More than 100 houses were destroyed and 5,200 hectares of crops were damaged, said the statement.
Daily precipitation in Nanjing, capital of east China's Jiangsu Province, on Saturday reached 245.1 millimeters, setting a record in 66 years, according to the city's meteorological station.
At least 16 cases of inundation in downtown Nanjing were reported, and more than 120 flights were delayed or canceled. The city issued a red alert for the heavy rains on Saturday morning, and lifted the warning around 6 pm.
China has a four-tier color-coded warning system for severe weather, with red being the most serious, followed by orange, yellow and blue.