Studying silkworms honors ancient tradition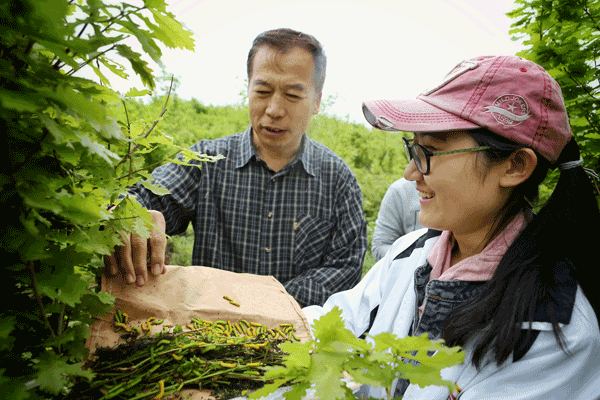 Qin Li gives a lesson to his students at a silkworm farm in Shenyang Agricultural University. JIANG MENG/CHINA DAILY
Since late April, Qin Li has been busy putting baby tussahs - an Asian silkworm - in oak trees, scaring away magpies and conducting biological research.
The 54-year-old is director of Shenyang Agricultural University's Tussah Institute. He has studied tussahs for nearly 30 years, focusing on the silkworm's relationship with oak trees as well as its immune responses and breeding habits.
"Unlike South China's silkworms, the northern tussah has a unique value in terms of ecological farming, increasing farmers' incomes and DNA research," Qin said.
China is famous for its delicate silk, with the silkworms in South China's Zhejiang and Jiangsu provinces being best known. In the south, farmers usually pick mulberry leaves to feed silkworms at home in bamboo baskets.
But in North China, the baby tussahs are put in oak trees where they live by themselves, spinning silk cocoons to protect their pupa from predators and extreme weather conditions. "The silkworms that live in oak trees, one of the most popular trees in North China, are magical. Our ancestors were smart enough to create a unique, ecological farming method," Qin said.
In Northeast China's Liaoning province, spring farming starts at the end of April and harvest is in late June. Autumn farming starts at the end of July and harvest is in late September. One tussah's cocoon generates about 10 grams of silk, which can produce more than 1,000 meters of silk thread. Industry insiders said the annual yield of tussah silk is about 50,000 metric tons, accounting for about one-tenth of total silkworm production.
Hu Xiaomei, a chief information officer at Shenyang Agricultural University, said that the institute's tussah major, which has been offered since 1957, is the only one of its kind in the country, despite silk farming covering many provinces in North China.
Qin said that written records of tussah breeding can be traced back as far as 3,000 years ago. But because tussahs are grown in the wild, it is difficult to carry out biogenetic research and even harder to obtain accurate data.
He has spent decades developing new varieties and improving silk production.
Thanks to new technology, Qin and his colleagues completed the gene sequencing of tussah in 2006. He has studied gene expression and function, and by the end of last year his team had decoded more than 90 genomes.
In addition to tussah research, Qin studies oak trees - the leaves of which are the only thing tussahs eat. He has collected more than 20 kinds of low-temperature oak varieties from home and abroad since last year.
"I plan to set up an oak tree garden to study the most nutritious and beautiful trees, which can feed tussahs and decorate the urban landscape," Qin said.
He added that he is helping to set up a tussah museum to provide science education for children and the public.
"Not many people are aware of the major, with fewer than 30 students enrolling each year, of which half transfer to other majors in the second year," he said. "I am concerned that it will come at the expense of tradition.
"The history of the tussah is tied into local people's history, which involves one part of the ancient Silk Road in Northeast Asia. To understand the special silkworm is to understand ourselves."
Zhang Yijun contributed to this story.
wuyong@chinadaily.com.cn