Providing food for thought in China's rural schools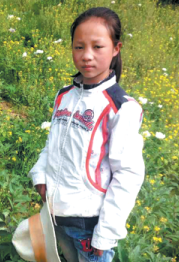 Yu Haiyan, 12, often misses lunch at her primary school.[Photo provided to China Daily]
Making the most of one meal a day
"Add more sugar, please," 12-year-old Yu Haiyan said to a vendor who sells snacks during the noon break at her school in Baoshan village, Gansu province.
Wearing a big smile, Yu took a small bowl of mixed congee-a thin gruel of rice and water, which is all she can afford with the 3 yuan (4 cents) her grandfather gives her every day-and moved off to chat with her friends.
However, the vendor doesn't visit every day, so the fifth-grade student often misses lunch. She prefers to stay in the classroom with her friends. "I usually spend a few coppers on a bottle of orange or grape flavor soda water," she said.
Every day at 6:30 am, Yu leaves her grandparents' house in Jiaoshan village and walks 3 kilometers to Baoshan Hope Primary School, a journey of about an hour, to ensure she is ready for the start of classes at 8 am. On her way to school, she likes to watch the nearby creek and rapeseed flowers.
The students usually have seven classes during the school day, which lasts from 8 am to 4:30 pm. Yu's favorite classes are music, Chinese and English-she finds it easy to remember the English texts.
At 9 am, after early morning class, some of Yu's classmates go to the small canteen, built from mud and stone, to collect government-sponsored breakfasts and distribute them to their peers.
Yu doesn't like the breakfast, which consists of bread, an egg and a box of milk, so she often takes the egg and bread home for her grandfather. She drinks the milk, even though she doesn't enjoy it: "It doesn't have any taste, so I don't like to drink it. I prefer something sweet."
Usually, Yu only has one meal a day, which she eats with her grandparents in the evening. Noodles with tomatoes, egg and shredded fried potato is her favorite dish.
Having lived with her grandparents since an early age, the 1.5-meter-tall girl has only lived with her parents for three years in total.
Her grandfather, Zhao Xiecheng, said his daughter, Yu's mother, didn't have a good life, so she divorced her husband three years ago.
People in rural areas place great stress on having male offspring, according to the 53-year-old farmer, so Yu and her mother didn't get enough respect from the girl's father and his family. That was one of the main reasons behind the couple's divorce.
"I didn't like living with both my parents," Yu said. "I would rather live with my grandparents."
Yu's mother works on contract in Beijing and only returns home once a year, staying less than a month. Yu misses her mother greatly, but she doesn't get to spend enough time with her. If possible, she said, she would like to live with her mother in the capital.
Xin Wen contributed to this story