Media in BRICS nations vow deeper cooperation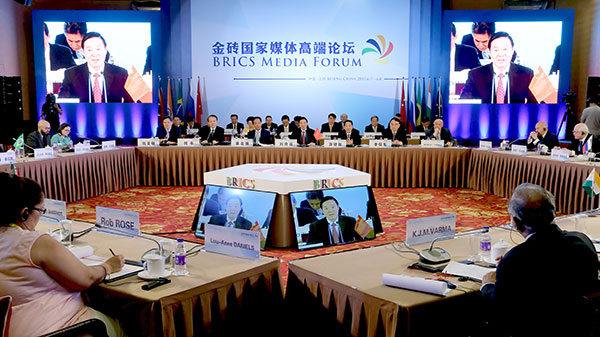 Liu Qibao, head of the Publicity Department of the CPC Central Committee, delivers a speech at the BRICS Media Forum in Beijing on Thursday.Wang Zhuangfei / China Daily
Representatives at forum call for new narratives that present positive picture
Shaping another golden decade of BRICS cooperation requires joint efforts by media in the five member countries, a senior Party official said.
Liu Qibao, a member of the Political Bureau of the Communist Party of China Central Committee and head of the committee's publicity department, made the comment when addressing the BRICS Media Forum in Beijing on Thursday.
BRICS comprises five major developing countries - Brazil, Russia, India, China and South Africa.
As BRICS cooperation enters its second decade, leaders of 27 media agencies from member countries vowed on Thursday to deepen their cooperation.
Liu said the media should support win-win cooperation, display the bright future of BRICS, and promote friendship and cultural exchanges among members.
The ninth leaders' meeting of BRICS will be held in Xiamen, Fujian province, in September.
Cai Mingzhao, president of Xinhua News Agency and executive chair of the forum, said participating media organizations all agreed to choose news stories for the BRICS news reporting award, and will continue to present photo exhibitions.
Qian Keming, vice-minister of commerce, told the forum that the world economy and trade has stopped slumping and is on the rise, but the imbalance of the economic structure and the lack of new economic driving forces remain to be tackled.
As rising protectionism challenges economic globalization, China is ready to work with other BRICS countries to showcase faith in greater collaboration, Qian said.
Zhou Shuchun, editor-in-chief of China Daily, said media in BRICS countries should jointly study and deal with the world economic situation, and better showcase the firm will and strong actions of BRICS countries in building an open world economy.
Zenariah Barends, co-chair of the forum and the chief of staff at Independent Media in South Africa, called for more efforts to develop alternatives to the current narrative that often focuses on the negative side of BRICS countries.
BRICS media have a huge role in telling amazing stories, not only about what the BRICS organizations are doing, but also the important life-changing stories happening in these countries, Barends said.