Rising to a tunnel's challenge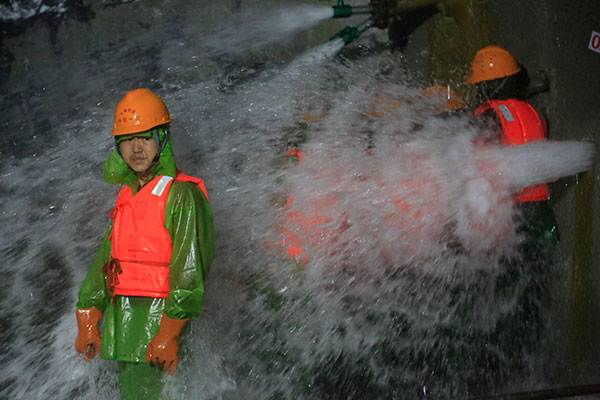 Workers deal with gushing water during the construction of the Dazhushan Tunnel on the Dali-Ruili Railway project in May.Provided To China Daily
When work began on the Dazhushan Tunnel, the plan was to finish it in five years. That was in 2008 - and construction crews are still digging.
Unexpected difficulties mean the 14.5-kilometer tunnel, a critical juncture on the Dali-Ruili Railway in Yunnan province, is now scheduled for completion in 2021, Xinhua News Agency reported.
The tunnel runs through six faults in the Hengduan Mountains on the Qinghai-Tibet Plateau. It would have been beyond imagination to build on the earth fractures 20 years ago, said You Hongsheng, a spokesman for No 4 Company of China Railway First Group Co, which is digging the tunnel.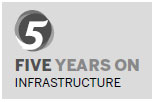 In August 2009, immediately after the first drilling began at one of the six fault lines, a 20-centimeter crack appeared in the operating face. The crack continued to widen as mudrock gushed out, filling a space 200 meters long and 6 meters high in about five hours.
"We failed to predict the fragility of the fault," said Jiang Dong, a construction manager at the site. "It is just like drilling into a piece of bean curd. The mudrock started to flow into the tunnel as we worked."
Jiang said the problem was later solved by building a wall to stop the mudrock flow and grouting the flow until it became solid. "Then we dug through the solid part to carry on with the project."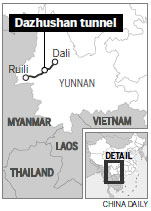 An estimated 140 million cubic meters of water have been pumped out of the tunnel over the past nine years of construction work.
In addition to the day-to-day operating challenges, the geologic complexity of the area where the tunnel is located has made working conditions extremely tough for workers.
In most parts of the construction site, it's quite humid, with the temperature in the hole at around 37 C. Workers had to alternate in two-hour shifts to continue through the day.
Some workers have left the project because of the rough working conditions and the extended construction time. Others, however, stayed put and were determined to hold their ground until the tunnel's completion.
Jiang said when he began working at the site his daughter was in second grade, and now she is in senior high school. He has been able to be home for just 20 days every year.
Wu Hao, 25, chose to stay with the project even though his father needed him in the family business.
"I need to prove myself in this project. How can I give up halfway?" Wu said.
When the Dali-Ruili Railway is complete, it will take a train just five minutes to run through the tunnel. Few passengers will know that it took 13 years to build.