Providing food for thought in China's rural schools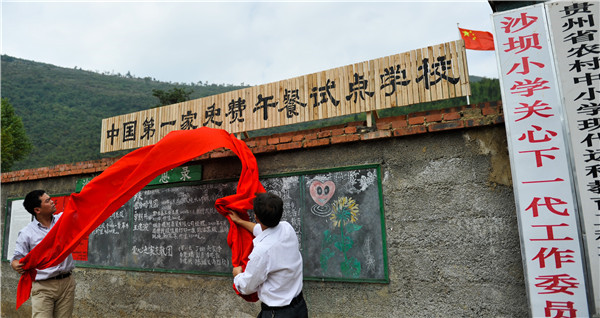 The first free lunch program was launched at the Shaba Primary School in Qianxi county, Guizhou province, in 2011.[Photo/Xinhua]
Shaping policy
Deng's team is working on other practical charity programs. One provides poor students with life and study supplies, while another teaches rural children about personal safety. A third program builds movable dormitories for rural students who walk long distances to school, and another recruits urban families to support rural orphans or left-behind children.
"We also run a program called E-Farmer Spring, which aims to help villagers sell farm produce to improve their incomes. This way, we attract parents of left-behind children back home," Deng said.
Critics say the problems of China's rural poor are too great to solve through microphilanthropy, but Deng believes his programs have a role in shaping government policy: "Charities cannot and will not replace the government. But so long as the government, enterprises and charities work together, a social empowerment model is built. We have succeeded in Xinhuang and Hefeng, and we believe these programs can take root in other poor areas."
He opened a map and started drawing lines. Connecting two poor counties with a line, he pointed to Wuling Mountain, one of China's poorest areas, which covers parts of the provinces of Hunan, Guizhou and Hubei, and Chongqing municipality. The total poverty-stricken population is 36 million.
China's 13th Five-Year Plan (2016-20) has pledged to lift 70 million people out of poverty, posing a huge test for local governments.
Yao said government officials should work harder to solve people's problems, rather than thinking of climbing the political ladder: "We should combine social resources and government plans to better serve the people's needs."
Deng said the biggest challenge is getting enough people to help, because urban volunteers are not able to stay in the countryside for long periods.
He believes the priority is to train local staff and help rural young people sharpen their skills and start their own businesses: "We aim to empower people to develop and grow on their own."
Now, Qiang, the young student in Xinhuang, is getting more than a free lunch and health insurance because his father has returned from the city to participate in the farming program.
"Thanks to Free Lunch, my dad can stay with me," he said.