Teacher sends red packets to bless her students before gaokao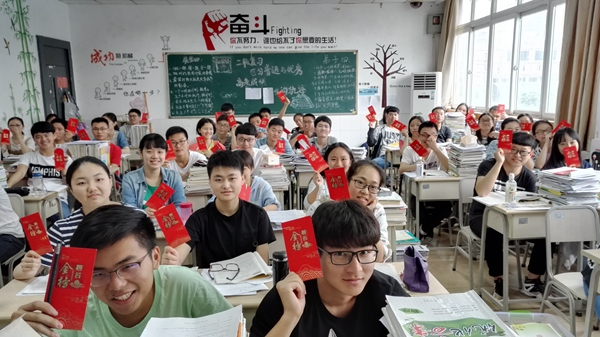 Students preparing to sit the national college entrance exam show the gift packages given by their teacher, Yang Fan, in Southwest China's Chongqing Yucai Middle School on June 6. [Photo provided to chinadaily.com.cn]
As millions of students sit the most important test in their life on June , a teacher in Chongqing found a special way to express her blessings to her students: a red packet.
Yang Fan,a Chinese-language teacher at Southwest China's Chongqing Yucai Middle School, took a month to prepare a gift package for each of her 120 students before the national college entrance exam, known as gaokao. In the red envelope, there is a bookmark printed with the pictures of China's famous universities. On the back of each bookmark, Yang wrote poems to express her blessings and encouragement.
The teacher also sent students a pen with the envelope, hoping they can write a new chapter in their life with it.
"The students can write their wishes with the pen on the bookmark before the test," Yang said. "It is a tradition in my classes in recent years."
The entrance exam will take place on June 7 and 8.
"Many students are nervous right now," Yang said. "I hope my gift can calm them down and boost their confidence."