Banders brave elements for migration studies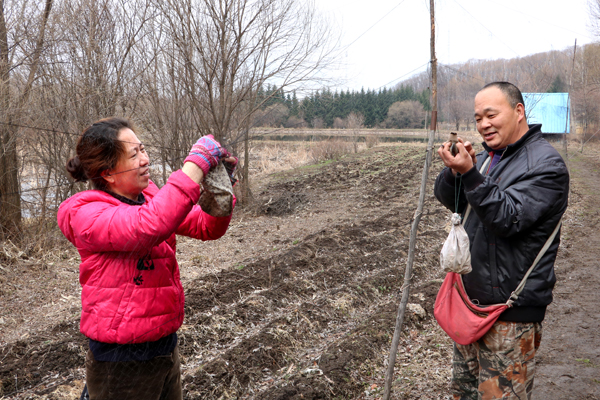 Wu Wei and his wife, Sun Shuhong, remove birds trapped in a net on Mao'er Mountain. Photo Provided To China Daily
Tagging of more than 300,000 birds over 17 years has made a significant contribution to scientific research
On a fresh spring morning on Mao'er Mountain, about 100 kilometers from Harbin, capital of Heilongjiang province, 50-year-old Wu Wei begins the day with one of his regular inspections of 106 nets, carefully removing any trapped birds.
Wu identifies the species of each bird, recording information such as their length, weight and color, as well as the time and place they were caught.
Then he places a lightweight metal ring - which has a unique number engraved into it for future identification - around the leg of each bird before releasing them back into the wild.
Every year, during the two bird-migration periods, from March to May, and from August to October, which are the best times for bird banding, Wu works from dawn until dusk, inspecting the nets every two hours.
In the past 17 years, he has attached identification tags to more than 300,000 birds.
Wu became involved in bird banding in 2000 as an assistant to Chang Jiachuan, a retired ornithologist from Northeast Forestry University, at the Mao'er Mountain Bird Banding Station.
Before that, he worked as a driver at the Mao'er Mountain Forest Farm and knew little about bird banding.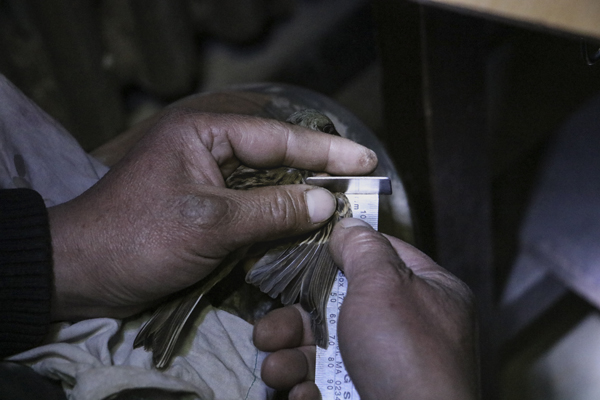 Wu measures a bird before attaching an identification tag. Photo Provided To China Daily
Wu said spending half of the year at the station is a challenge as there is no television or phone signal. He is not Chang's first assistant, but he is the first to have stuck with it.
"As I agreed to take on the job, I should stick with it and do it to the best of my ability," Wu said.
In addition to learning from Chang, Wu spends his spare time studying books on ornithology. As a result, he has become familiar with all 158 species of birds in the area. In fact, he can accurately distinguish birds that appear extremely similar, which is a difficult task even for some ornithologists.
Now the bird bander, who only received a high school education, is often invited to conduct bird-banding training courses across the country.
Wu has spent a lot of time attempting to improve bird banding tools, which has helped increase efficiency and ensure the safety of the birds.
In 2001, Wu's wife, Sun Shuhong, began helping him during the two migration periods.
His office is a 10-square-meter room that also serves as the couple's dormitory. Every two weeks, Sun goes to buy nonperishable vegetables, such as potatoes and onions, in the nearest town, which is about half an hour's drive away.
Every March, the couple set up the nets on the mountain, a journey that must be completed on foot.
"It is difficult to walk in the forest, especially in early spring when the snow is more than 50 centimeters deep," Wu said.
"In the autumn, the weeds are so high that we have to cut them back first."
Every time they make inspections in the autumn, they get bitten by mosquitoes and often encounter dangerous animals, such as snakes.