Shanghai's smoking ban is paying off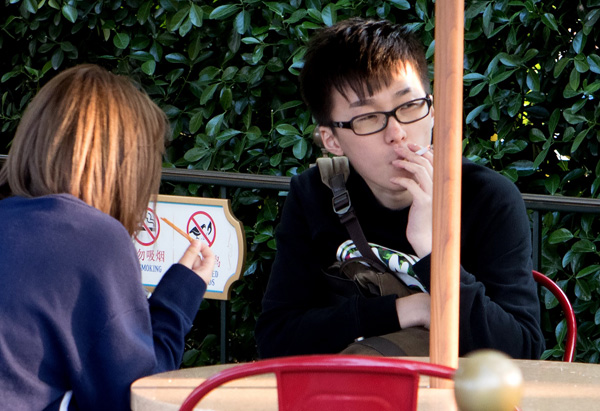 A tourist smokes beside a'No Smoking' sign at Shanghai Disneyland in April. [Photo by Gao Erqiang/China Daily]
Three months after Shanghai introduced its strictest ban ever on indoor smoking, the number of venues in which inspectors have found violations has risen as a result of more vigorous enforcement and tighter regulations, according to a report released by the Shanghai Health Promotion Commission on Wednesday, which was World No Tobacco Day.
About 30 percent of entertainment venues and 28 percent of restaurants inspected were found with smokers violating the ban, the commission said.
"The increase is not because there are more people smoking inappropriately. It's that the regulation is becoming stricter and inspections are more frequent and more widely carried out," said Cui Yuanqi, deputy director of the commission.
Following the implementation of the regulations, the commission worked with law enforcement departments in March and April, visiting more than 38,000 venues all over the city. The inspections resulted in 476 venues and 133 people punished for violating the rules, with fines totaling 1.13 million yuan ($165,000).
"The new ban has been very effective not only in that nonsmokers and employees in those smoke-free venues are more outspoken in stopping smokers from violating the rule, but also they have actually succeeded," Cui said.
Venues that take the initiative to stop smoking have increased by 24.8 percent from 2016, and about 90 percent of the venues where smoking is prohibited are now found with no discarded cigarette butts, according to the commission's tally during the large-scale inspection.
Looking ahead, public toilets and toilets in public venues like shopping malls and restaurants - which remain the blind spot in part for reasons of privacy - will be a key focus for inspection and enforcement going forward, the commission said.
The ban is also believed to have boosted the electronic cigarette industry. Electronic cigarettes don't burn in the conventional way; rather, they vaporize a liquid nicotine mixture whose secondhand effects are minimal.
"The number of e-cigarette shops in Shanghai is overwhelmingly high," said Feng Lingchao, the owner of the city's top-rated e-cigarette shop, Zhengqi Wanwu, meaning vapor toy in Chinese.
He estimated there are more than 200 shops of the kind in the city, while in other first-tier cities, such as Beijing and Guangzhou, the number is between 20 and 30.
The city witnessed explosive growth of e-cigarette shops at the end of last year, after the municipal government announced the new ban, which prohibited smoking in all indoor public venues and work areas in Shanghai.
Sales of e-cigarettes in Shanghai have increased by 30 percent since March, according to Chinese newspaper Labor Daily.
Li Jianzhong, a 40-year-old smoker and TV director in Shanghai who switched to e-cigarettes in April, said the new ban is actually the last straw.
"My wife has been trying to get me to quit for years for my own and my son's health, and the latest ban is giving me a final push," Li said.
Feng, the shop owner, said more than 80 percent of his clientele consists of veteran smokers.