Prison is price of graft for 6 'tigers'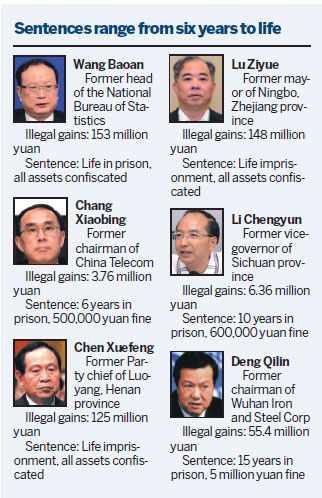 Six former senior officials were convicted of bribery and given sentences ranging from six years to life imprisonment by Chinese courts on Wednesday.
Of the six officials, three were convicted of bribery involving sums in excess of 100 million yuan ($17.6 million) and sentenced to life imprisonment. They were Wang Baoan, former head of the National Bureau of Statistics; Chen Xuefeng, former Party chief in Luoyang, Henan province; and Lu Ziyue, former mayor of Ningbo, Zhejiang province.
The other three, handed sentences ranging from six to 15 years, were Chang Xiaobing, former chairman of China Telecom; Li Chengyun, former vice-governor of Sichuan; and Deng Qilin, former chairman of Wuhan Iron and Steel Corp.
Wang Baoan had accepted bribes valued at 153 million yuan, according to Zhangjiakou City Intermediate People's Court in Hebei province.
Wang was deprived of political rights, and all his personal assets were confiscated and turned over to the State, according to the court.
The court said he had abused his power to gain benefits for others on project approvals, business contracts and job promotions. He then accepted huge bribes paid either in cash or property personally or through family members from 1994 to 2016, according to the court.
Over 22 years, Wang's primary jobs were secretary of the general office of the State Administration of Taxation, assistant minister and vice-minister of finance, and head of the NBS.
The court said it handed out a lenient punishment instead of the death penalty because he was forthcoming when he "confessed his crime and cooperated with law enforcement officers to return his ill-gotten assets."
Separately, Chen Xuefeng, former Party chief in Luoyang, Henan, got a life sentence for corruption, bribery and abuse of power. Chen took advantage of his position to gain benefits for others and, in turn, accepted money and assets worth 125 million yuan from 2000 to 2015, according to Jingzhou City Intermediate People's Court in Hubei province.
Since November 2012, when the new leadership was elected, anti-corruption efforts have become a top priority for the country. President Xi Jinping has conducted a sweeping drive to fight against both "tigers" and "flies", referring to high-ranking officials and low-level officers.
More than 140 high-ranking officials, at ministerial level or above, have been investigated over alleged graft issues, including Zhou Yongkang, a former member of the Standing Committee of the Political Bureau of the CPC Central Committee, who was sentenced to life imprisonment in June 2015, according to the top anti-graft watchdog.