Putting the sparkle back in Erhai Lake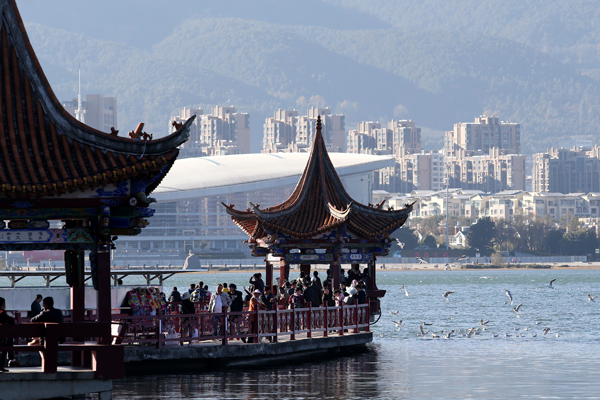 Tourists enjoy a walk around Erhai Lake, a scenic spot in Yunnan province that officials aim to restore to its former glory. Yang Zheng / For China Daily
Cleanup mission given manpower and 4.5 billion yuan for projects to improve sewage treatment network around scenic spot.
For the past two months, Zhao Qiuhua has had to skip dinner most days, and he has rarely been able to get to bed before 2 am. Not that he minds, as he's helping to clean up China's treasured Erhai Lake.
This must-see scenic spot in Yunnan province has been affected by heavy pollution in recent years, yet Zhao and about 140 other government officials are working to restore the lake to how it looked more than five decades ago.
"We oversee the work and are in meetings all day and night, discussing the progress as well as potential solutions to problems we find," said Zhao, 29, deputy head of Xizhou township. "At the same time, we also need to carry out our day-to-day duties, to ensure things run smoothly in our towns and districts."
The Dali Bai autonomous prefecture, which also includes the ancient town of Dali, another major tourist attraction, deployed a significant amount of manpower when it launched the lake cleanup mission in January.
Although the number has not been disclosed, Zhao said about 80 of Xizhou's 100 officials are involved, along with 11 from the prefecture government and close to 50 village cadres.
Their main targets are guesthouses, restaurants and rural communities with low-quality or no sewage treatment equipment, which for years have been pumping raw sewage directly into the lake, as well as illegal construction and agricultural pollution.
Spring is usually a busy time for tourists heading to Erhai Lake, but few visitors could be found when China Daily reporters visited the area at the end of April.
Red banners carrying motivational slogans such as "If Erhai Lake is clean, Dali will thrive" or "Protecting Erhai Lake is like protecting your eyes" were hung over roads and plastered on billboards, walls and bridges.
Yet the brightly colored banners were in stark contrast to the white tape that officials had used to seal the doors of about 1,900 guesthouses and restaurants on the lake's northern, northeastern and western shores. All of them were ordered to close in early April to allow for an inspection of their wastewater treatment facilities, while a block was also placed on applications for new business licenses.
According to a notice from the prefecture government, these businesses will only be allowed to reopen once they can guarantee their wastewater can meet Grade 1, the highest level in the country's three-tier assessment system. Most now have only basic septic tanks, which means a considerable investment to meet the standards.