President asks police to spare no effort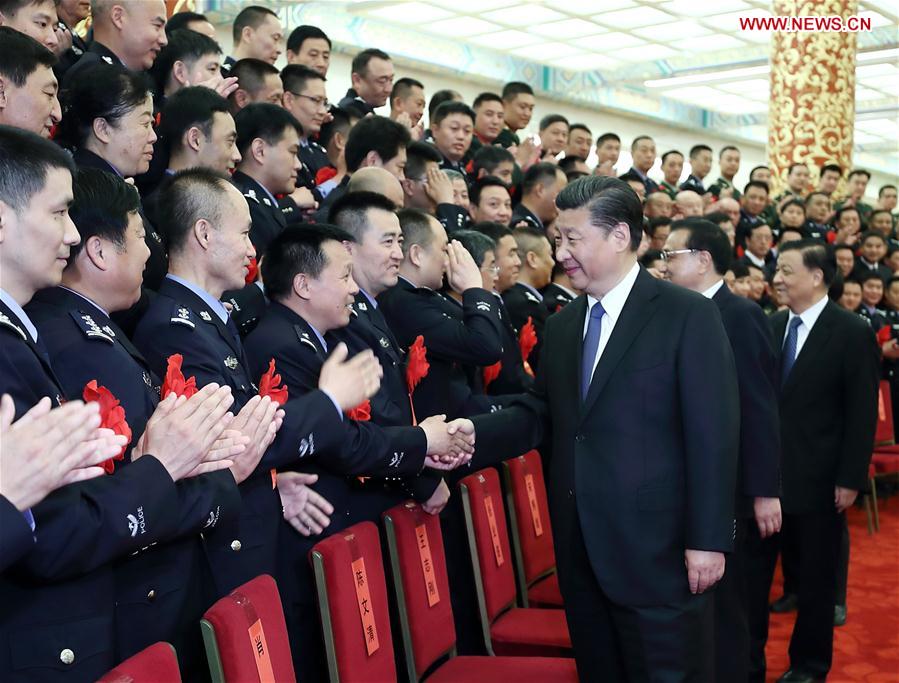 President Xi Jinping, also the Party leader; Chinese Premier Li Keqiang and Liu Yunshan, a member of the Party's top leadership body, meet with heroes and role models from public security departments across the country at the Great Hall of the People in Beijing, May 19, 2017. [Photo/Xinhua]
President Xi Jinping called for the country's public security forces to better serve the people, stay loyal to the Communist Party of China and exercise fair law enforcement as he met with heroes and role models from public security departments on Friday.
Xi, who is also general secretary of the CPC Central Committee, urged police officers nationwide to stay highly disciplined and step up efforts to become more professional.
Public security forces nationwide should stay loyal to their missions and responsibilities, implement an overall security outlook and spare no effort to safeguard national security and social stability, the president told representatives at a conference to commend heroes and role models from the public security system.
The conference, held in Beijing on Friday morning, honored 615 units and 1,320 individuals in the public security system across the nation.
The police should also keep improving the public's sense of security and satisfaction and create a safe and stable social environment, thus paving the way for the success of the 19th National Congress of the CPC later this year, Xi said.
Public security forces are the group that makes the most sacrifices and the largest contributions during peacetime, he said.
The heroes and role models commended at the conference have used their perspiration, blood and lives to safeguard national security and social stability as well as the security of people's lives and property, he said.
"Over the years, I am deeply moved every time I read the touching stories of police officers risking their own lives and disregarding their own safety," the president said.
"I also have experienced deep heartache every time I hear news of police officers defying danger and death, bleeding and sacrificing their own lives," he said.
Xi also urged society to better promote the spirit of the heroes and role models in the public security forces as part of an effort to better promote socialist core values.
Local Party committees and authorities should make sure that the relatives of officers who have died on duty, especially relatives who are elderly or minors, are well taken care of, he said.
Since the 18th Party Congress of the CPC-held in November 2012-2,105 police officers have died on duty, with another 22,977 officers injured, news portal chinapeace.gov.cn reported, citing figures from the Ministry of Public Security.
Last year, 362 police officers died in the line of duty, with another 4,913 officers injured, the report said.