Transforming public security
E-governance, info-infra projects CEC's priorities in S. America, Africa
In April last year, Ecuador in South America was struck by a massive 7.8-magnitude earthquake that killed about 700 people, injured 5,000 others and rendered 80,000 homeless. It was widely reported that casualties could have been higher but for the multipurpose Chinese security technology that doubled up as an alarm telephone line during the quake aftermath.
Many survivors said they owed their lives to the quick response of the authorities concerned to their ECU911 emergency calls. One survivor, Pablo Cordova, was to eventually meet Chinese President Xi Jinping during the latter's state visit in November last year.
Amid all this, CEIEC, the company responsible for the miracle technology (which handled at least 17,888 emergency calls in the first two days after the killer quake), kept a low profile.
CEIEC is the local subsidiary of China Electronics Corporation or CEC, the largest State-owned enterprise in the information technology industry.
But parent CEC is not a low-key company. An important pillar of national information security, CEC is making sustained efforts to expand across the two continents of South America and Africa.
Its business footprint covers over 100 countries and regions. Overseas revenue accounts for 50 percent of the total, according to CEC.
"We are actively exploring e-government solutions and public security areas in Latin America and Africa," said Rui Xiaowu, chairman of CEC.
In Ecuador, CEC's unit runs 16 ECU911 centers, which integrate systems of police services, video surveillance, geographic information, smart analysis, disaster relief and paramedic units, fire department, transportation and the Red Cross.
This improves the speed of response to emergencies via a single telephone number 911.
"ECU911 is an efficient relief command center in response to disasters, but in daily life, it works as a security network," Liu Liehong, general manager of CEC, told Xinhua News Agency in November.
ECU911, based in Quito, started operations in 2011 and has since helped bring down crime rates in the country. About 20 Chinese technicians have been working day and night to ensure the system runs efficiently.
On Nov 18, President Xi Jinping and his Ecuadorian counterpart Rafael Vicente Correa Delgado inaugurated a joint laboratory at the ECU911 headquarters.
The lab, which makes use of cloud computing, big data and intelligent video analysis technologies, is expected to upgrade the existing system and further enhance the public safety management of the country.
Liu of CEC said: "As Latin American countries industrialize, a country's governance capacity should be enhanced by improving its information infrastructure. We've lots of products and technologies that can help improve e-governance, public security and industrial IT."
CEC has signed technology and product cooperation contracts with Venezuela, Bolivia and Trinidad and Tobago to build public security networks.
CEC is determined to go global with its IT solutions/products and information infrastructure construction capabilities. "Enterprises should actively respond to the Belt and Road Initiative. We've a broader space and could do more in this field," said Liu.
Established in 1989, CEC oversees a plethora of well-known IT companies across China. With over 130,000 group-wide employees, its umbrella covers 23 second-level subsidiaries, including 15 listed holding companies.
Its business portfolio covers new display technology, information security, integrated circuit and advanced IT-related services.
It also engages in e-commerce, logistics and information services, electronic engineering design and contracts.
Its independent information security protection system can find, prevent and replace potential risks and attacks.
Rui, CEC chairman, said the company's technologies have made a breakthrough in computers, internet, industrial control and security services, reaching world-class standards.
CEC has marketing networks covering hundreds of cities in China. It is an important player in the fields of national informatics and state information security.
fanfeifei@chinadaily.com.cn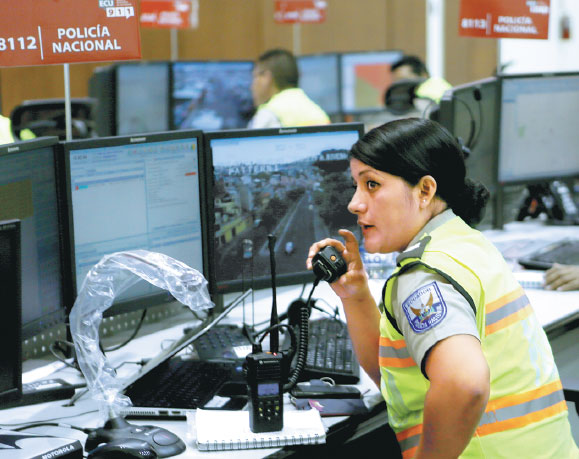 An emergency call response executive at work at an ECU911 center in Ecuador. The center, which is supervised by CEIEC, a subsidiary of China Electronics Corporation or CEC, has achieved a high level of efficiency and effectiveness. Provided To China Daily