New sparkling shared bikes succeed in getting attention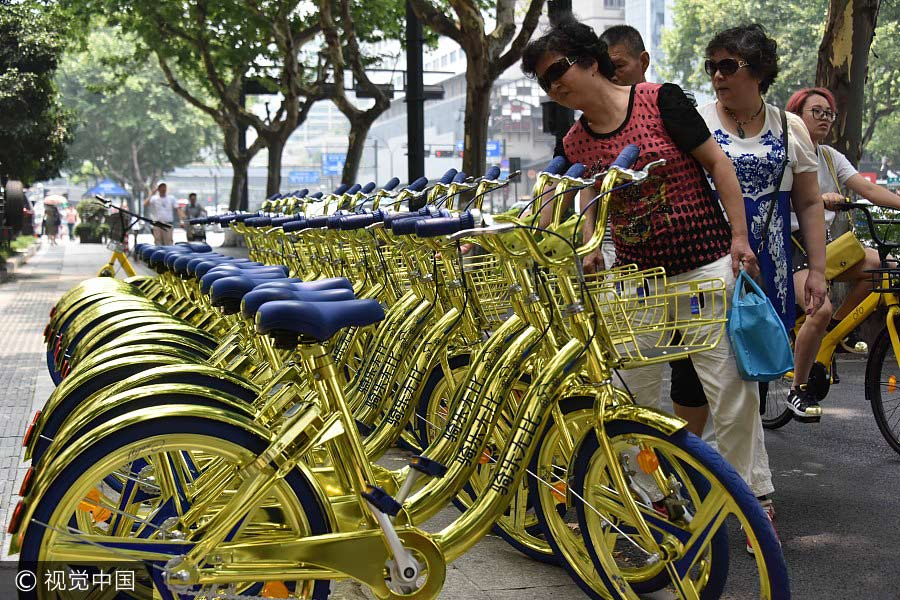 A row of sparkling gold shared bikes catches the attention of people in Hangzhou, East China's Zhejiang province, on June 8, 2017. [Photo/VCG]
A new host of sparkling gold shared bikes that began appearing on the streets in Shanghai, Hangzhou, Beijing, Shenzhen and Xi'an on Thursday has triggered heated online discussion.
Unlike the colors of publicly shared bikes from other major players in the fiercely competitive industry, the bikes from Coolqi are completely gold with navy blue on the handles, seat and wheels.
Coolqi, a Beijing-based technology company that produced the bikes, said the color was intended to catch the eyes of the public.
"The combination of the two colors is fashionable but not boastful. It represents our company's ambition to offer shared bikes with dynamic feeling and a sense of innovative technology," the company said.
Around 200 such bikes have been put on the streets of each of the five cities. The company previously had introduced 1 million green shared bikes in more than 50 cities.