As child seats for shared bikes rise in popularity, so do legal concerns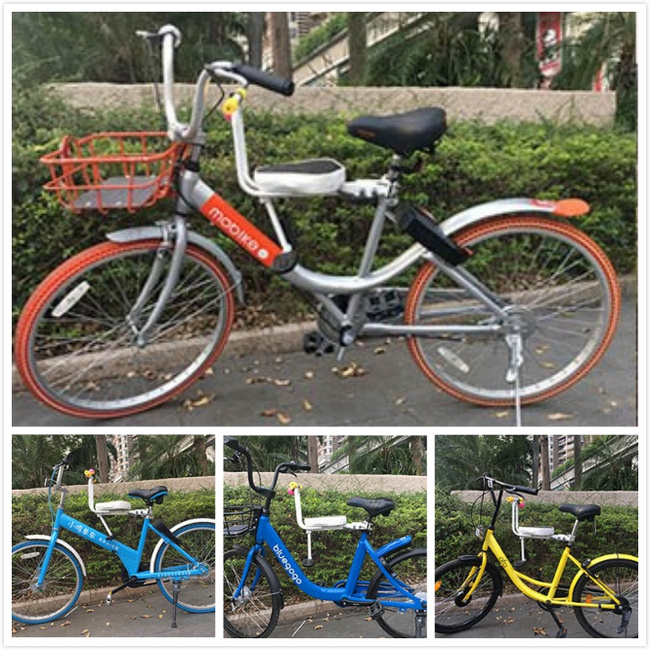 A vendor on Taobao, a Chinese eBay-like shopping website, demonstrates shared bikes mounted with extra child seats. [Photo: Taobao.com]
The ongoing bike-sharing boom in China has led detachable front-mounted child bicycle seat to become a bestseller online, at the same time raising safety and legal concerns.
Various bike-sharing companies have declared that carrying others while riding their bikes violates the one-user only agreement, warning that those who break the rule could assume full responsibility in case of accidents, The Beijing News reported.
On Taobao, an e-commerce site run by China's Alibaba, such a child bicycle seat kit generally includes a support bar, a child bike saddle, a pair of foot guards, a front armrest and necessary clamps. The installation almost requires no tools, as the clamps can be simply attached on the bike's original seat post.
Most of the Taobao vendors claim their seats are made of carbon steel, thus able to hold up to 60kg.
Similar bike seat accessories are being sold by hundreds of sellers, usually priced between 40 and 60 yuan (about 5.8 to 8.7 USD) and mostly decorated with cartoon prints.
Vendors with the highest sales volumes have reported over 500 orders within the past month.
The seat kits are nothing new but have become popular soon after a recent bike-sharing fever swept across China, a seller on Taobao told The Beijing News.
However, most of the vendors fail to provide legal quality certificates, and disclaimers are posted asserting the sellers won't be held responsible for any accidents involving the bikes and child seats.
Online customer reviews show that many buyers claim the seats are "shaky" even after proper installation.
Journalists with the Beijing News have consulted Mobike, ofo and bluegogo, three leading bike-sharing companies in China, and have been informed that a shared bike is a one-person only service, which means carrying others violates their user agreements.
The companies said no extra mounts should be used on shared bikes, insisting that users should bear responsibility if related accidents occur.
Tang Ning, a lawyer with the Beijing King & Capital Law Firm, supported the statements, adding that the sellers of the child seats may also be accused if accidents happen.