High-tech helps traffic police capture jaywalkers in Shenzhen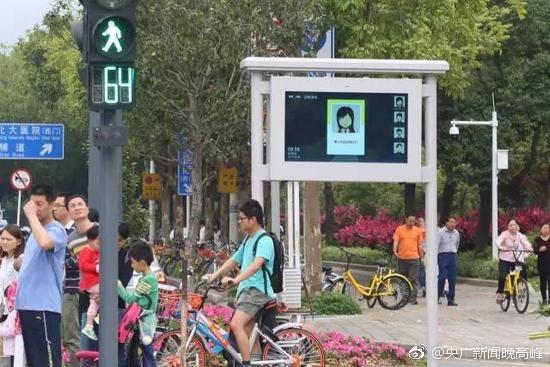 The electronic screen set up at the intersection of Xinzhou Rd. and Lianhua Rd. in Shenzhen, Guangdong province. [Photo/weibo.com]
An intelligent identification system (IIS) has been set up on an intersection in Shenzhen, Guangdong province tasked with exposing pedestrians who jaywalk on red lights.
The IIS was researched and developed by Shenzhen traffic police. Nicknamed "black technology", the identification system conducts 24-hour non-stop supervision of the pedestrian crossing and takes shots of pedestrians who ignore red lights. Photos of pedestrian traffic offenders will then appear on an electronic screen.
The equipment is set up at the intersection of Xinzhou Rd. and Lianhua Rd. in Shenzhen. The intersection has congested traffic especially during rush hours.
The system can identify pedestrian traffic violations via video. With the help of big data, the system can retrieve and recognize human faces and remember whether a person is a repeat traffic offender.
Jaywalkers will appear on a screen set up at the intersection. The screen serves the functions of publicity, testimony and as a warning system. The evidence from the screen can then be used to issue warnings to jaywalkers and take measures against them, promoting traffic safety.
Li Qiang, chief of the traffic police's science and technology department in Shenzhen, said that the equipment is on trial, and police will make adjustments according to the operative situation to determine how to further expand the system throughout the city.
According to statistics by Shenzhen police, there were nearly 200,000 cases of traffic violations by pedestrians since 2016 in Shenzhen.
Other high-tech equipment will also be put into use in Shenzhen. To tackle the problem of randomly honking horns, the Shenzhen traffic police have put 'sonar imaging ' equipment into use. The equipment can locate the source of the sound and take a picture of the offender which is displayed on a screen with the plate number.
The 'sonar imaging ' equipment was first tried on Mingzhu Rd. in Yantian district of Shenzhen where annoying misuse of car horns is a constant nuisance. The horn overuse is frequent as it is triggered by prevalent congested traffic. Once captured, the driver can be fined 500 yuan (about 73 USD).
According to officer Jiang from the traffic police's science and technology department in Shenzhen, more high-tech equipment can be expected on Shenzhen's roads in the future.