Behind the veil of Chinese white-hat hackers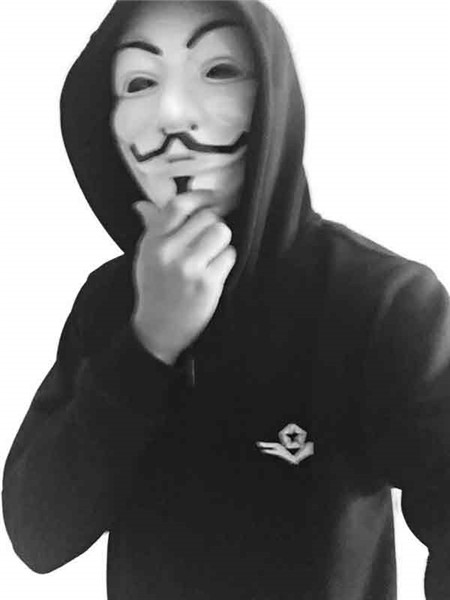 A selfie of Lin Zhihui [Photo provided to People's Daily Online]
Rebellious, talented and law-abiding twenty-somethings serve as main force in today's cyber security vigilantism
Countless children dream of becoming a superhero. For many, the dream gradually fades. But others are actually realizing their dreams through invisible battles of good versus evil in the virtual world.
"The word 'hacker' has been defamed. It only reminds people of black-hat hackers nowadays, but the term is actually about mutual assistance and chivalry," 17-year-old Lin Zhihui argued in an interview with the People's Daily Online.
The pimple-faced teenager currently attends high school in Central China's Jiangxi province. He is shy with his peers, intentionally keeping a low profile. He never plays video games, and fails to muster much enthusiasm for sports.
But on the internet, Lin, who goes by the username of Adrian, is one of the 20 best hackers on China's leading internet security monitoring platform Butian, where over 30,000 registered white-hat hackers work to detect and mitigate internet vulnerabilities. Unlike black-hat hackers, they hack into protected systems and networks to test and assess the security conditions, avoiding disturbances and participating in no information theft.
Rebellious but talented
As of March, some 60 percent of white-hat hackers on Butian were born after 1990, and 44 percent of them were born after 1995. Lin, born after 2000, is something of a prodigy. This April, he ranked sixth overall. Since December 2015, he has reported a total of 398 vulnerabilities and taken in a bounty exceeding 43,000 yuan (around $6251).
Butian's current top-ranking white-hat hacker of the year goes by the username carry-your. The 25-year-old earns up to 900,000 yuan from vulnerability reports on the platform, according to Yang Yitong, operation officer of Butian.
Yang also recalled that her personal information was promptly exposed when she first took on the job of communicating with the young hackers.
"Now I am more experienced and able to deal with their probes. They are very adorable – funny online, a bit shy offline. But they are all into cool and cutting-edge technologies," she told the People's Daily Online.
According to Lin, his first encounter with cyber security was in 2008, when his family bought their first computer. "I was trying to surf the internet one day, but ended up downloading a virus," the teenager explained."My parents were furious. I was ordered to stand in the corner for a whole night as punishment...I wanted to learn how to defend myself [from viruses] after that, and I was concerned that other kids might experience the same punishment."
Other young hackers admitted that their "epiphany" moments came in more casual, sometimes morally suspect ways. Several said they read novels about cyber wars and hackers, while others tapped into the technology in order to cheat in online games or on social networks. Some credited experiences at internet bars – widely seen as a rendezvous point for rebellious youth – for introducing them to hacker life.
"You just get interested naturally, as to how things function … Learning about technology is so much fun, but not many people understand what you are doing – even my sister, who is a university graduate, doesn't understand," a 22-year-old Butian hacker, who asked to be called S, told the People's Daily Online.
During his adolescence, Lin said he had many quarrels with his parents, especially when his enthusiasm for cyber security caused him to earn lackluster grades at school.
"I ran away from home once. I felt they just did not understand me," he admitted, adding that he felt more relaxed experimenting with new technologies on vulnerability-testing websites. Lin's situation at home improved a lot after he used his hacking know-how to locate the thief that stole his family's cell phone.