SCO leaders emphasize political, diplomatic means to settle regional conflicts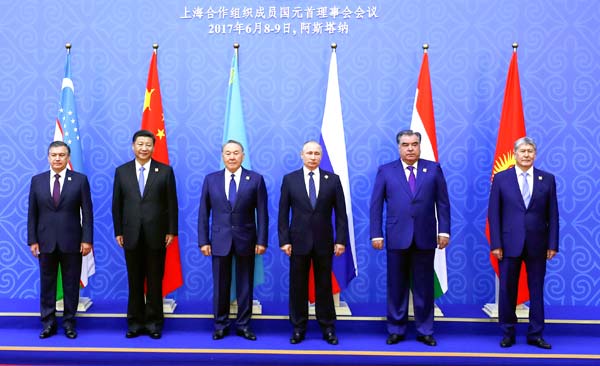 Leaders of the member states of the Shanghai Cooperation Organization (SCO) pose for group photos after the conclusion of the 17th SCO summit in Astana, Kazakhstan June 9, 2017.  [Photo/Xinhua]

ASTANA - Top leaders of the Shanghai Cooperation Organization (SCO) member countries said Friday that political and diplomatic means are the "only choice" to settle regional conflicts.

The presidents of six countries, namely China, Russia, Kazakhstan, Uzbekistan, Kyrgyzstan and Tajikistan, made the remarks in a joint communique issued after their annual summit in Kazakhstan.

The leaders supported Afghanistan's efforts to combat terrorism, extremism and drug-related crimes, saying the United Nations should play a core role in coordinating international cooperation to secure peace and stability in the Asian country.

The six presidents urged extensive dialogues inside Syria to settle the current conflict through political means based on the UN Security Council resolutions, adding that the Astana Process will create necessary conditions to pursue a political solution to the Syria crisis within the framework of the UN-led Geneva talks that is acceptable for all parties concerned.

The top leaders affirmed the efforts made by all relevant parties to implement the comprehensive agreement on the Iranian nuclear issue reached between Iran and six other countries with the participation of the European Union.

They also eyed the full implementation of the Minsk agreement signed on Feb 12, 2015 to solve the Ukraine crisis as early as possible.