Britain's May on course to lose majority in British parliament: exit poll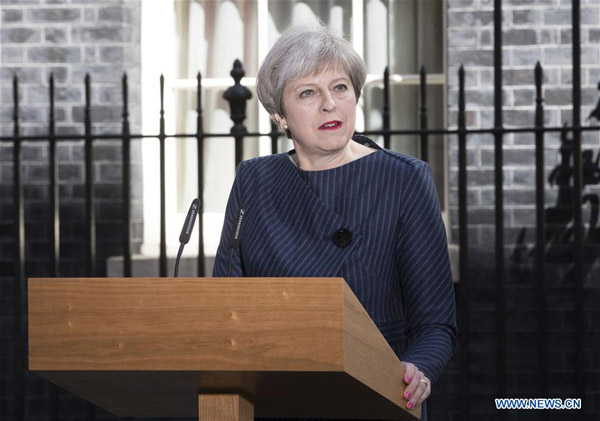 File photo taken on April 18, 2017 shows British Prime Minister Theresa May speaking to media outside 10 Downing Street as she calls a snap general election in London, Britain. [Photo/Xinhua]
LONDON - British Prime Minister Theresa May is on course to lose her overall majority in the British general election, according to an exit poll released as soon as voting finished Thursday night.
The poll, commissioned by Britain's main broadcasters, showed May's Conservatives would have 314 seats, losing 17 seats and the overall majority she had before the election. She needs to win at least 326 seats to claim an overall majority in the House of Commons.
May's main rivals, Labour, would have 266 seats, according to the exit poll, which gave the first clue about the likely outcome of the snap general election called just a few weeks ago by May.
The minority Liberal Democrats would gain six seats to reach 14, the Scottish Nationalists will lose a third of their seats, getting 34, and the Greens would hold on to their single seat in Westminster.
It will be early hours Friday before the result is confirmed, but similar exit polls carried out at the previous two general elections in Britain came very close to predicting the results correctly.
In the 2015 general election, which came after five years of a general election between the Conservatives and the Liberal Democrats, few polls predicted a majority win for then prime minister David Cameron.
The poll predicted not only would Cameron win, but also that his coalition partners since 2010, the Liberal Democrats would be massacred.
The 2015 exit poll predicted nine seats for the Lib Dems, and in the event they ended up with eight, losing around 50 MPs.
Counting of millions of votes started soon after ballot boxes were delivered to counting stations, with the first declarations likely before midnight.
The vast majority of results will be declared between 2 am and 4 am local time, with May and her main rival, Labour leader Jeremy Corbyn, eagerly waiting to see which party, if any, crosses the 326-seat threshold. That is the number of seats needed to guarantee a majority in the 650-seat House of Commons.