First China-produced passenger plane completes high-speed taxi test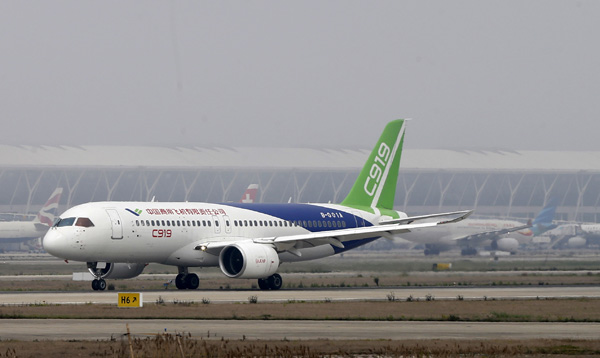 China's first domestically produced passenger plane completes a high-speed taxi test for the first time in Shanghai on Sunday. [Photo/Xinhua]
China's first domestically produced passenger plane completed a high-speed taxi test for the first time in Shanghai on Sunday, just one step away from its maiden flight, thepaper.cn reported.
The COMAC C919 rolled off the assembly line on Nov 2, 2015, and was delivered to the flight test center in December.
The Shanghai-based State-owned Commercial Aircraft Corp of China Ltd, its manufacturer, has completed most of ground-based pre-flight evaluations, including the low-speed and medium-speed taxi test, to examine the whole aircraft and its key components and connecting parts.
It will conduct more high-speed taxiing tests at a speed of up to 170 kilometers per hour before its first flight scheduled in the first half of this year.
With more than 150 seats and a standard range of 4,075 kilometers, the locally designed and built aircraft marks a significant milestone in Chinese manufacturing, as China moves up the global production chain.
The plane is expected to compete with the updated Airbus 320 and Boeing Co's new-generation 737, which currently dominate the market.
By the end of 2016, a total of 21 customers had placed orders for more than 500 C919 aircraft, and COMAC expects to sell at least 2,000.