Saying goodbye to the birds and the bees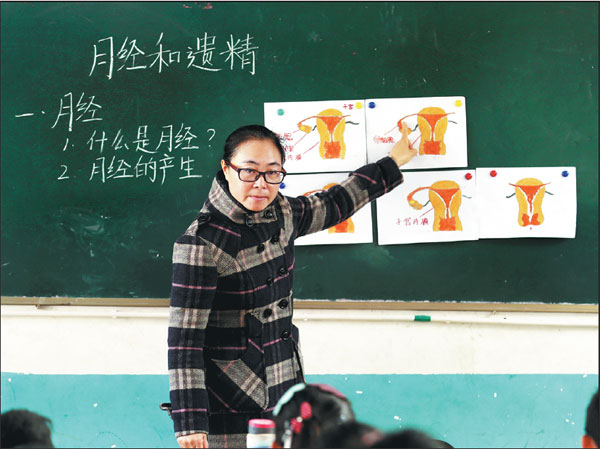 Wu Ling, a sex education teacher at Xingzhi Primary School in Beijing's Daxing district, teaches her students about women's bodies and menstruation.Photos By Zou Hong / China Daily
Despite criticism that a sex education textbook is too graphic, parents and professionals have united in its defense. Yang Wanli reports.
"Every time I express my belief that sex education should begin at primary school level, many of my friends are stunned, almost open mouthed. They say 'Oh, my goodness! How can we allow these innocent kids to learn about sex?'" said Li Ming, a sex education teacher at Xingzhi Primary School in the Beijing's Daxing district.
Recently, the school has been targeted as a result of its use of a sex education textbook, even though it was published 10 years ago.
Some critics complain that the book is too graphic because it includes illustrations of genitalia, full penetration and menstruation.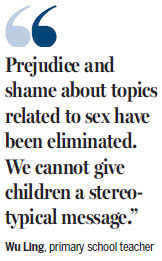 "Many people believe the stereotype that sex education is simply about sexual intercourse," Li said. In fact, the book's 12 volumes - whose collective name translates as Cherishing Life - are intended for students from grades one to six. The books cover six themes, including family and friends, life skills, gender and rights, sexuality and healthy behavior.
Despite widespread support for the book, some parents remain unconvinced.
"Some knowledge of sexual activity and contraceptives is included in the textbook for children at grades five and six. I'm concerned that knowing this sort of information will encourage children to try sex even earlier," Apple, the mother of a 3-year-old girl, wrote on her Weibo account.
A child's right?
Since its launch, the textbook, written by academics at Beijing Normal University, has been used in 18 primary schools in Beijing to teach about 15,000 children ages 6 to 11.
Liu Wenli, the book's lead author, has specialized in child development and sex education since the 1980s.
When she returned to China after studying and working in the United States for 10 years, she was enthusiastic about promoting sex education.
"Unlike some people who view sex education simply as the prevention of unplanned pregnancies, sexual activity at a young age and sexually transmitted diseases, I believe sex education is a child's right. Children have the right to learn and know more about themselves and other people," she said.
"This not only answers fundamental questions, such as 'Where am I from?' but also provides the basis for developing mutual respect with other people and a tolerance of differences."
The heightened public and media discussion about the textbook has resulted in a growing number of parents visiting bookstores to buy it.
Liu recently received a message from the publisher informing her that it is printing extra copies in response to the growing demand.