Three arrested for imperial tomb theft
Three people are in police custody in Beijing for stealing a pair of 400-year-old candleholders from the Ming imperial tombs, local authorities said on Saturday. The suspects - two people from Beijing and one from Central China's Henan province - have been implicated in organized relic theft, Beijing police said.
The mausoleums were built for the emperors of the Ming Dynasty (1368-1644). The missing white marble candleholders, which are about 90 centimeters tall and weigh 200 kilograms each, belong in front of the mausoleum of the last Ming emperor, Chongzhen, who reigned from 1628 to 1644.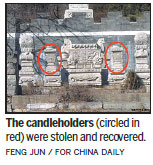 According to a police officer who declined to be named, the candleholders went missing in May, but officials tried to cover up their absence by saying they had been sent for repairs.
The candleholders were a hot topic online last month when a visitor shared contrasting photographs of the tombs. In the more recent images, two vases and an incense burner could be seen, but the candleholders, which were visible in older photographs, were gone, with only their bases remaining.
A media official with the Changping government said that the Ming Tombs Special Area Agency admitted on March 20 that the candleholders had gone missing.
Four officials were removed from their positions for "incompetence" on Thursday. An investigation into the theft is ongoing.
About 40 kilometers north of downtown Beijing, the Ming Tombs were listed as a UNESCO World Heritage site in 2003.