Public housing programs to be available early on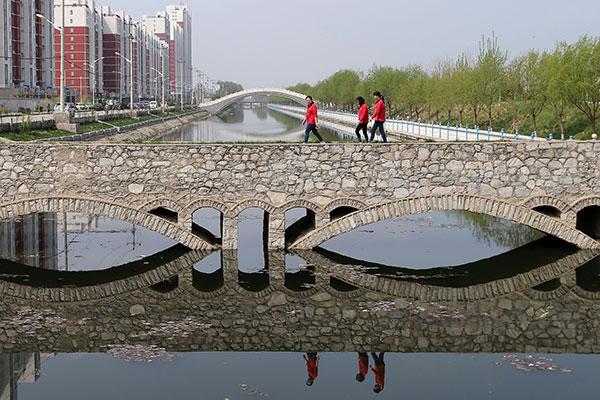 Residents walk across a bridge near a residential area in Anxin county in Xiongan New Area on Wednesday. All housing sales in the new area have been banned.Wang Zhuangfei / China Daily
Housing reforms will be launched in Xiongan New Area to attract talent, and affordable public housing programs will be available in the early phases, according to people familiar with the project.
"The local government needs to find ways that work in the long run to prevent housing prices from soaring to unreasonable levels after the short-term ban ends. High housing costs are a major factor that prevent young, talented people from coming," said Wu Hequan, deputy director of the State Council's expert advisory committee on the collaborative development of Beijing, Tianjin and Hebei province.

The local government issued an order on April 1 banning all housing sales in the new area.
Vice-Premier Zhang Gaoli said on Thursday that the area will prohibit large-scale development of real estate, putting emphasis on fending off risks in the property sector.
Although plans for future real estate development have yet to be released, the area will be able to borrow from Singapore's experience in governing public housing. The government there owns the land and rents houses to qualified applicants, Wu said.
The temporary hold on real estate transactions provides a viable environment to try something new that has not been implemented in other places, said Yan Yuejin, a senior researcher at E-House China R&D Institute, a Shanghai-based real estate consultancy.
"But public housing is not the best answer to deal with housing problems after construction," Yan said. "The government may introduce programs allowing tenants to first rent and then purchase, but at low prices."
Initially covering 100 square kilometers, the area is planned to expand eventually to 2,000 sq km, similar in size to the Shenzhen Special Economic Zone, according to a circular.
Morgan Stanley Research estimates the total population of Xiongan could reach 5.4 million in 15 years after migrants move in, and the population density is expected to reach 2,720 people per sq km, compared with 3,831 in Shanghai's Pudong New Area and 5,698 in the Shenzhen economic zone.