Volunteers breaking cultural barriers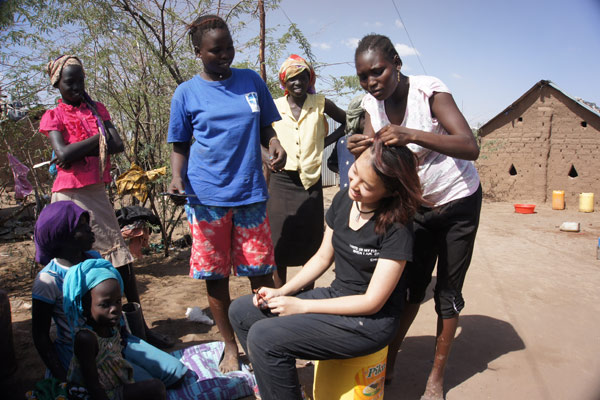 Zhang Chi enjoys a makeover in Kakuma, the largest refugee camp in Kenya. [Photo/Provided to China Daily]
A growing number of young Chinese are visiting Africa as unpaid workers and engaging more with people from countries across the continent. Hou Liqiang reports.
In 2014, a friend told Yin Binbin about the bleak lives of the residents of Mathare, a slum area in Nairobi, the capital of Kenya. As he listened, an idea occurred to Yin-then a sophomore at Shandong University in East China-he would volunteer to work in a school in the ghetto.
He never expected that his idea would bind him and children of the slums together for a prolonged period. However, in the past three years, Yin and his peers, mostly college students, have raised more than 300,000 yuan ($43,450) to rebuild two primary schools in Mathare. In addition, a "free lunch" program they launched with a Chinese NGO has helped more than 1,100 children in the poverty-stricken area, which has a population of about 500,000.
Despite China's growing economic presence in Africa, there has been a lack of engagement between the general public and their counterparts in the continent, according to experts. Now, young Chinese such as Yin are endeavoring to change the situation.
Despite his early enthusiasm, Yin was shocked by the terrible conditions at the Light Center primary school in Mathare. About 300 students were crowded into a "stuffy" and "somber" shed of no more than 180 square meters. There was no electric light, so Yin tried to reflect sunshine into the "classroom" by filling transparent bottles with water and placing them in a hole in the roof. The experiment failed, so the volunteers used the flashlights on their smartphones to help the students see what had been written on the blackboard.
The worst time every day was when the teachers cooked, because the shed, which was made from rusty sheets of iron, would be engulfed by smoke, making the children's eyes sting.