Chinese Cambridge student spreads his wealth of knowledge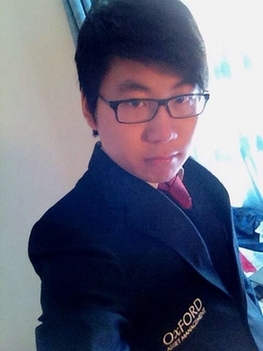 Han Zhenyu. [Photo provided to chinadaily.com.cn]
From struggling student to attending one of the most prestigious universities, Han Zhenyu's hard work seems to have paid off. And last Sunday, Han Zhenyu wanted to share his learning experience with students and their parents in his hometown of Harbin.
The 21-year-old boy is currently in his third year majoring in mathematics at Cambridge University, one of the best universities in the world.
It's quite difficult for a Chinese student to get into Cambridge but he's helping seven other Chinese students do just that.
However, Han had trouble studying when he was in junior school in Harbin.
The heavy learning tasks and the teachers' constant nagging caused him to dislike school.
During that period, he learned foreign teaching methods on the internet and thought it would be more appropriate for him.
"From my early age, my parents gave me great freedom and respected my personal development," Han told local media. "Therefore, when I told my parents I wanted to study abroad, they supported my decision without hesitation."
In 2011, he chose a junior school in Britain to study English and started preparing for the entrance exam for the senior high school.
"Before I went abroad, I clearly knew that it would cost my parents quite a lot of money," said Han. "It would be a great challenge for my not wealthy family, so I told myself I must double my effort to study."
Han was quite interested in mathematics from an early age, so after he arrived in Britain, his first plan was to practice all the mathematical exercises of the senior high school.
Through several exercises, Han found that there was a pattern in the equations.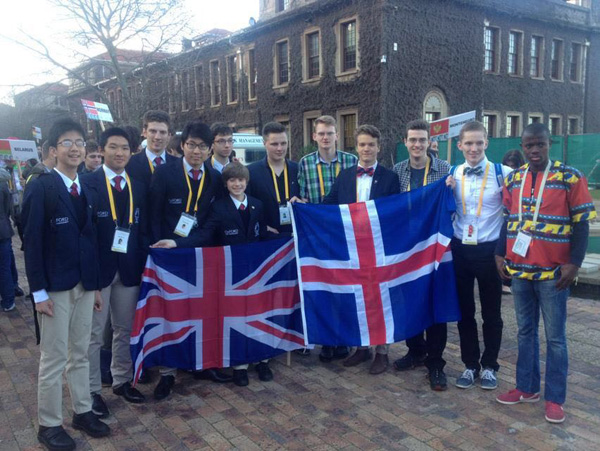 Han Zhenyu (L4) attends the opening ceremony of International Mathematical Olympiad in 2014. [Photo provided to chinadaily.com.cn] 
"Through such exercises, I could receive nothing but wasting time," he said. "I stopped doing such pseudo-work and began to explore the knowledge system of mathematics."
After finding a study method that worked for him, it took him just one week to finish all the mathematics courses of senior high school and finished the mathematics course of the first two years of college the following year.
He also applied the methods to other subjects and even his life and saw results.
In 2012, Han got into Dulwich College, one of the best all-male senior high schools in London.
During his two years in Dulwich College, he made a lot of accomplishments in mathematics, which helped him get into Cambridge University in 2014.
We can see his brilliant achievements on the website of UK Mathematical Trust, winning seven first prizes and being the first Chinese member of the national team.
The seven first prizes made him famous causing many students to ask him for help on math problems.
"I quite enjoy being a teacher to help them solve the problems," said Han. "Some of them have become my long-term students. Every week we have a three-hour one-to-one lecture on the internet."
"Every time before the lecture, I prepare carefully," he said. "I pay more attention on inspiring their capacities to think and judge."
His efforts paid off. With his help, seven of his students got offers to Cambridge, which made him feel quite delighted and proud.
"Believe your children can be better because every one of them has limitless potential," Han told the parents.