Ashes are transformed into new green life
Planting a tree over remains of a loved one teaches lesson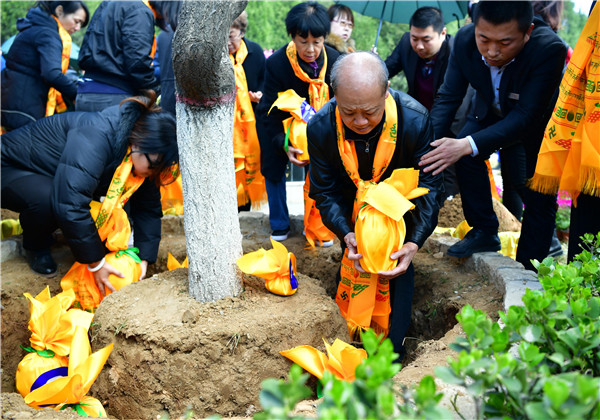 People bury the ashes of their family members under trees in Pingshan county, Hebei province. [Photo by Zhai Yujia/China News Service]
Dong Lizhi died in 1997 at the age of 70. As a senior member of the Chinese Communist Party, Dong had been dispatched from North China by the central government to Hubei province to help with local development. He held a strong belief that "a man should not fight for his fame when he is alive, nor should he occupy land after he dies".
Honoring his will, Dong's daughter Dong Weilin, now 62, made a decision at the time, after consulting other family members, to keep her father's ashes at home temporarily.
At that time, the Xiaoen Grave Yard on Wuhan's Longquan Mountain had just introduced a new service-the green funeral. The idea filled a small consumer niche by promoting minimal impact on the environment and low cost. Green funerals usually involve a biodegradable container, or casket, that can easily dissolve in the ground, rather than an expensive coffin. Such containers can be used, for instance, to bury a person's ashes under a tree or commit them to the ocean, as former Chinese leader Deng Xiaoping asked in his will.
Dong's wife, learned about the eco-friendly package and wanted to give it a try. With the family's approval, she became the first client, arranging for her husband's ashes to be buried beneath a young pine tree.
Dong Weilin, the daughter, recalled: "We fell in love with the location at first sight. Green hills and clear water. Picturesque scenery. That was a great resting place for my dad."
"As the first customer, we did not even use a casket," she said. "We just wrapped our father's ashes in the Party's flag. The tree was less than 1 meter tall back then. After two decades, it has grown to more than 2 meters."
She takes her family to visit the tree every year. "The kids have been watching the tree growing year by year. They get some insight by seeing a red life changing into a green life."
Dong's wife turned 88 this year. She decided long ago to remain with her husband after her own death. Her name was cut into the stone marker in front of Dong's tree 20 years ago. Dong's four children all backed her decision.
"At first, we were worried that people might think we were bad, or mean about money. But we gradually found out that people actually get our point. In fact, five friends' families have chosen the same service for later on," Dong Weilin said.
Every year, Dong's children bring fresh flowers of various colors to honor their father, rather than the white and yellow chrysanthemums Chinese traditionally use on such occasions. They decorate the tree with the flowers and make it as beautiful as they can.
"Father loves flowers. So we have to give him the best," his daughter said.
Liu Kun and Du Juan contributed to the story.
Contact the writer at chenmengwei@chinadaily.com.cn