Lamp collector lights up Hainan memories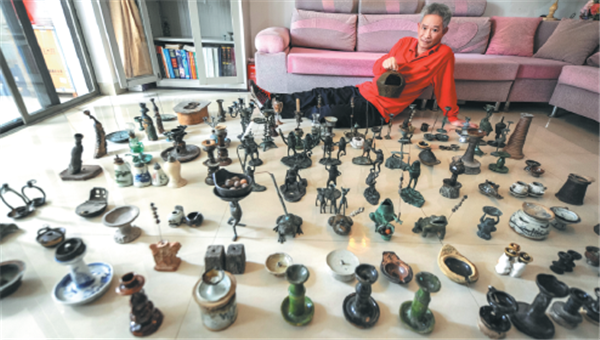 Wang Fuhe shows just a small sample of his collection that spans the centuries. [Photo by Yuan Chen for China Daily]
Most of us have various reasons for travel. It could be to enjoy beautiful scenery, relax, sample delicious food or even have an adventure. But Wang Fuhe is unique. The native of Hainan Island has made numerous trips searching for antique lamps.
As a son of a first-generation electricity worker, an occupation he followed, Wang's life has been full of stories about light and lamps in Hainan, the country's only tropical island province.
"When I was a boy, I enjoyed sitting by my father's legs, turning my head and listening to him telling stories about light and lamps," said Wang. The stories created the seeds of love for lamps.
"Father collected the first lamp for the family when I was about 10 years old. Now I am in my 60s and I have more than 1,000 lamps and lights in my house," said Wang.
In his 20 square-meter living room, Wang has placed more than 200 ancient lamps in glass showcases, on wooden shelves, on the walls and even on the ceiling, making his house more like an antique museum.
"All these lamps in front of your eyes, including the collections of the Warring States period (475-221 BC), kerosene lamps of various shapes and lamps lined up in the style of early last century, are the fruits of my efforts over the past 50 years," Wang said, naming the lamps as if they were part of his family, which of course, they are.
"Look, this lamp is the most special and the only one left in China", said Wang, carefully taking out a lamp with an ancient ceramic texture from a showcase.
"It was a lamp that was usually hung on top of a boat by fishermen in the South China Sea. The lamp had to shine in wind and rain. It was very practically designed.
"Old objects from the South China Sea like this are rare. I saw it by chance one day in Haikou, capital of Hainan province. Experts at the Haikou Collection Association traced the lamp back to the Song Dynasty (420-479 AD)," said Wang, a retired worker from the transformer substation of the Haikou Power Supply Bureau.
"This is Hainan's first electric light," said Wang with great pride.