A funeral professional with a tender heart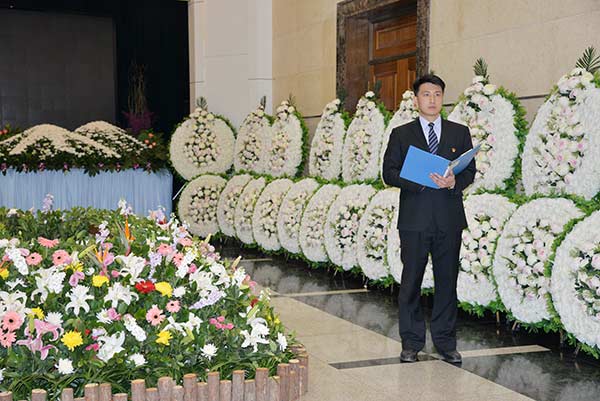 Dong Ziyi hosts a funeral at Beijing Babaoshan Funeral Parlor.
A mortician, to many Chinese, can be both mysterious and awe-inspiring. Some hold the belief that "nothing really matters but death", which magnifies the mystique.
With that in mind, one may be surprised at meeting 29-year-old Dong Ziyi, an athletic, 1.83-meter-tall Beijing man with a winning smile and the deep, resonant voice of a professional host on a midnight radio program. He looks more like a college student about to play basketball than a mortician.
Dong, who always wears black suit at work, has been in the funeral business for eight years. He has designed and led more than 1,000 funerals and has personally greeted more than 100,000 guests.
He got his college education while serving in the military, majoring in business management. His family wanted him to take a conventional job, but he responded to an inner impulse and joined Beijing Babaoshan Funeral Parlor, best known for hosting the funerals of China's top leaders.
That impulse arose, in part, from an experience he had in the military: burying a dead infant with his bare hands. He said he could not remember all the details but he cannot forget the rough stone placed in front of the tomb.
"I just feel that I'm somehow connected to this profession," he says. "I don't have much ambition. The job looks pretty stable to me."
That said, Dong won a national award as the best mortician of 2016. He also earned the title of Golden Emcee within his company, the highest rank in his profession.
He remembers the first time he directed a funeral eight years ago. Though he declined to reveal details to protect the client's privacy, Dong said he was shaking from head to toe and could not remember the words he had written for the deceased. He had to read from his notes, and he struggled to control the tremor in his voice. But since everyone was in great sorrow, no one seemed to notice, he said.
One particular funeral stands out. The deceased was a young mother who left her husband and a small daughter. At the funeral rehearsal, Dong's colleague played a short voice message from the daughter, who could not attend because her father thought it might be bad for such a young soul.
Dong said he can't recite the daughter's words now, but he remembers the emotional crash of that moment. Deeply moved, he began to weep and could not continue with the rehearsal. After awhile, he dashed into the restroom, washed his face and told himself: "You must do this. You do this for the little girl and her family."
His tears flowed freely at the funeral, but no one blamed him. Everyone was touched.
In Dong's business, another challenge is finding a life partner. Chinese people tend to shun anything too close to death-including people whose lives are closely tied to it. The subject is uncomfortable for many, even taboo.
Dong once had a girlfriend who he said loved him and wanted to marry. But the woman's family raised strong objections over Dong's occupation and forced them apart.
"I treat my job as a career, and I just want people to think of it as a profession. That's all," Dong said.
But his luck changed. He later met another woman, who became his wife. She has a law degree and also works in the funeral business-at the Beijing Babaoshan Revolutionary Cemetery, where lie some of China's founding leaders.
They've been married for five years. Dong even jokes that he and his wife can dominate the business chain-he directs the funerals and his wife takes care of the burials. It's a joke that only a couple like this can make.
CHINA DAILY