Online-to-offline biz model breathes new life into death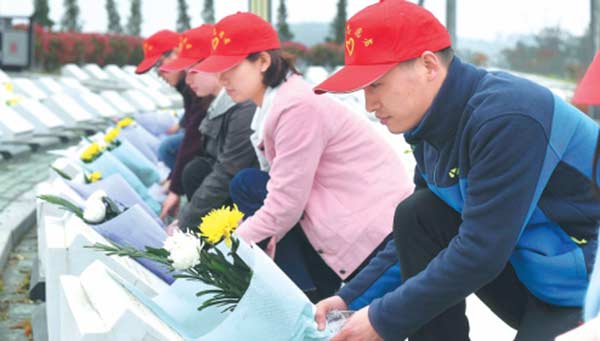 Volunteers in Dingyuan county, Anhui province, lay flowers on the graves of revolutionary martyrs on March 30. [Photo/China Daily]

Sales of goods, services for funerals, 'post-life' rituals try virtual

A nation of many aging people spawns business opportunities for not only firms offering elder care services, but startups that focus on what follows next-death. And, you may want to add, what follows death-customs like those observed on the Tomb Sweeping Day.
Some Chinese startups see death and afterlife as aspects of life that could do with some planning and professional expertise, with a dash of online-to-offline or O2O services. The goal of new-age service providers is to ensure those who will depart would do so in dignity.
Only, such startups don't hog media limelight like others of their ilk in segments like high-tech and apps for this or that.
The rationale for such seemingly somber business might be found in estimates from the Ministry of Civil Affairs, which show funeral-related products and services in China will likely top 100 billion yuan ($14.5 billion) in sales this year.
A Beijing resident, it would appear, needs 80,000 yuan to die and be buried in the capital. For perspective: an average Beijing resident's annual disposable income is 52,000 yuan. Stated differently, he or she needs to plan at least a couple of years in advance for a death with dignity.
"The profit for a traditional funeral service shop can reach 100 to 200 percent," said Wang Dan, CEO of Bi An, a pioneering funeral service company that closed down recently. "A decent funeral could cost tens of thousands yuan, and 50 percent of the cost may go into the pockets of hospital workers."
Death is a market all right, but one without regulation-and without easily available information.
Hence, funeral services remain a largely exclusive business. Disorder is the order of the day. The departed go in dignity, the living pay the price. Pain on top of grief.
"This business segment is falling behind the modern society," said Xu Yi, Bi An's co-founder.
With almost two decades of work experience in the internet industry behind them, Xu and Wang came up with the idea of combining the brick-and-mortar business with e-commerce to allow people to simply click and pick coffins or caskets. That would mean transparency via an easily accessible shopping catalog and much lower prices.
It is a market with huge potential.
"In China, about 10 million people die annually. The number is growing at 0.7 percent annually," said Wang Qin, a consultant at Sansheng Consulting. "The annual revenue of funeral services is likely to reach 600 billion yuan by 2020."
Small wonder, even the big boys of e-commerce such as Alibaba Group Holding Ltd and JD.com Inc have been lured to the sector.
Their users can now buy funeral products online. Digital marketplaces such as Taobao, Xianyu and Jingdong Mall offer a wide variety.
Statistics from Alibaba's online flea market Xianyu showed the number of products and services related to Tomb Sweeping Day has surged in March, double that in January and February.
A search for "cinerary casket" on Jingdong Mall produces 898 results-a wide range of products made of different materials. No physical store can match this range nor prices on offer (from about 100 yuan to thousands of yuan).
"The same products in stores are twice as expensive. The quality is quite good. And, the quick delivery is an advantage," said a consumer surnamed Zhao.
Besides goods, there are related services on offer online. For those unable visit the graves of their loved ones on Tomb Sweeping Day, Xianyu offers help. Service providers listed on it will sweep the tomb concerned for a price ranging from 100 yuan to 600 yuan.
An online user who identified himself as Guo Gaoduan, a resident of Xi'an, Shaanxi province, offers such tomb-sweeping services on Xianyu. His services include cleaning the graveyard, wiping the tombstone, laying wreaths and flowers, and conveying greetings to the departed. All for 600 yuan.
"Online services for funerals and Tomb Sweeping Day are still nascent. Their share of the overall market is still tiny. They exist only in big cities where people are more open to new ideas. It's possible they will grow in future but they won't change the game in the short run," said Wang Qin.
That may be because most of the goods and services associated with cemeteries and funerals, including tea and firecracker supplies, are largely handled by State-owned mortuaries. So, e-commerce could help by introducing transparency and service quality in this segment. But total transformation of this trade may take some time, said market observers.
"Funerals have long cultural history, which makes it hard to change people's mind," said Wang Qin. "Also, for most households, funeral is a rare requirement. When required, especially at short notice, online services may not be as quick as popping into the neighborhood shop."
So, the death- and afterlife-related business may not ditch its brick-and-mortar tradition just yet. "The online shop can attract traffic, and the offline or physical shop can provide the service efficiently," Wang Qin said. "Online service can only function as a consultancy."
According to Wang Qin, running a funeral services shop is cost-intensive, which will likely slow its expansion online. "Currently, the target customers for online shops are the younger people living in the big cities. The idea is not popular among the rural folks, limiting the market size. There isn't an efficient way to promote this business model and change people's mindset in the suburbs."
Earlier this year, Bi An had to close its online business because the experiment did not gain enough traction among mid-age customers. There is still a long way to go before e-commerce could prove to be a game-changer.
Contact the writers at renxiaojin@chinadaily.com.cn