Bakery accused of using faulty flour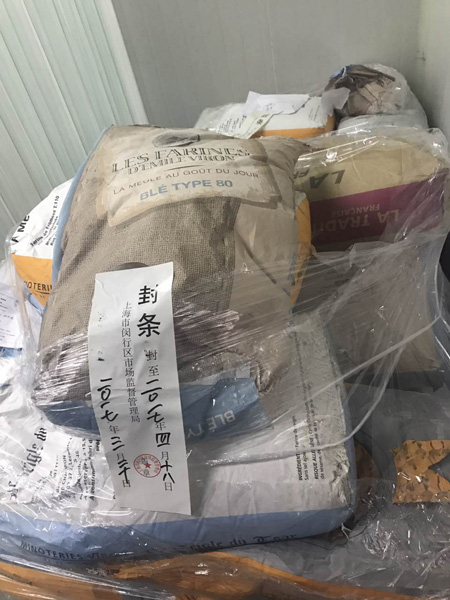 Bags of flour used at a Farine bakery outlet lie sealed up by inspectors in Shanghai. The owner of the shop has closed the shop voluntarily for self-examination. [Xu Junqian / China Daily]
A former employee of one of Shanghai's most popular bakery chains, Farine, which means flour in French, has accused the chain of using expired flour and of other sanitary issues.
Farine's four branches were all closed on Thursday, as well as its factory in the suburbs, which only opened at the beginning of this month.
Eight employees have been detained and could face criminal charges, according to the authorities.
"We received a tipoff on Monday from someone who used his real name, and we ran a check," said Wu Jun, head of Minhang district's market administration bureau.
The administration said the chain has sold 1,930 bread items made with expired flour and that another 1,890 bread items have been taken off shelves and destroyed. The fine for businesses using expired ingredients is 10 to 20 times the retail value of the products sold, according to China's food safety regulations.
The whistle blower, surnamed Lyu, claimed to have worked at the bakery for four months, starting in October. He told China Daily that he was disappointed to see Farine still in business, despite reporting it to a government watchdog, which is why he turned to social media to expose the chain.
Lyu published four posts on Wednesday on his Sina Weibo account, 1987 Jinbaobao, accusing the chain of using moldy flour and allowing rats to run riot in the storage room at night. He said in the posts that he felt "his con-science bitten by remorse", seeing so many people every day, especially those with children, lining up to buy substandard bread.
For years, the chain - especially its inaugural location established in 2012 in the former French concession - has been the go-to place for expats and young residents in Shanghai for authentic croissants. It has also become a must-visit hot spot for tourists, as it is recommended by almost every food guide in the city.
Xin Xiangrong, who identified himself as the lead Chinese partner in the chain, denied selling products that were expired or substandard.
Xin said on Thursday that the expiration date issue could be a matter of a difference in understanding between Chinese regulations and the business' foreign management team. He said the owner is closing down the business voluntarily for self-examination, and questioned Lyu's motive.
In a statement released by the management team, the company said it is "working closely with the Shanghai authorities to resolve the matter".
Franck Pecol, the French founder and owner of the chain, is also the man behind cafe Far-West; French restaurant Franck Bistrot; and, most recently, ice cream stand WIYF, which had people waiting for as long as three hours for a scoop in scorching sun last summer.
In a previous interview with Chinese media, Pecol said he planned to add another three outlets and expand the bakery business to nearby cities in the Yangtze River region.