Surrogacy standoff sees more couples heading abroad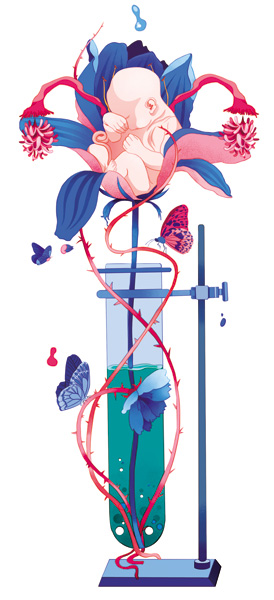 A rising number of Chinese are looking overseas to realize their dream of having a second child. Shan Juan reports.
Since China implemented the universal second-child policy at the beginning of last year, more than half of the 90 million newly eligible couples include women age 35 or older, according to the National Health and Family Planning Commission.
Geng Linlin, deputy director of the clinical center at the commission's scientific research institute, said many of these women are past prime fertility so they find it difficult to have a second baby.
Fertility declines as women age, according to Geng, who added that nearly 90 percent of women age 45 and older are unable to conceive or carry a pregnancy to full term. Moreover, women age 35 and older stand a greater risk of miscarriage.
Other factors, such as environmental pollution, the widespread use of chemicals and exposure to electromagnetic radiation, can also affect people's ability to reproduce.
The World Health Organization estimates that 15 to 20 percent of the global population is infertile, which translates to about 15 million couples in China.
"Declining human fertility has become a social problem," said Wang Lina, a veteran fertility specialist at the Peking University Third Hospital in Beijing.
She pointed to altruistic surrogacy-where the surrogate mother receives no financial reward-as a new option, particularly for women who are unable to become pregnant because of physical limitations but still long to have a second child.
At present, the only regulation governing surrogacy was issued by the commission, the nation's top health authority, in 2001. It prohibits medical facilities and professionals from performing any form of surrogacy.
Since then, the government has repeatedly launched raids on underground clinics across the country, but the "womb business" has never ceased completely.
However, largely as a result of the government ban, a rising number of well-to-do Chinese have begun to seek surrogacy services in countries where the procedure is legal and is performed under the correct conditions.