German soccer club kicks off operations in Shanghai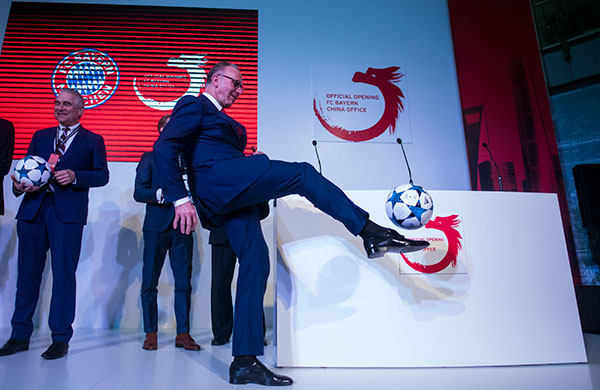 Karl-Heinz Rummenigge, chairman of FC Bayern Munich soccer club, opens the team's first China office in Shanghai on Wednesday. The team sees many opportunities in China.Johannes Eisele / Afp
FC Bayern Munich, Germany's top soccer club, opened an office in Shanghai on Wednesday to help China improve its training system for junior players as the nation works toward its goal of becoming a global power in the sport by 2050.
"It's the right time to come to China, and we must come to China amid the trend of globalization," said Karl-Heinz Rummenigge, the club's chairman.
More world-class players are in Chinese soccer clubs, but developing a sustainable, internal capacity that can consistently cultivate junior players is the key to making the nation a powerhouse, he said.
The club also announced its soccer school in Qingdao, Shandong province, will soon open.
In May, both China's economic planning agency and sports administration issued a long-term guideline that set as a goal making China a "top-class soccer nation" by 2050.
The plan specified the per capita soccer pitch space, the number of soccer academies and talent pool as well as highlighted training for reserve players and primary and middle school students.
"It takes time and patience for a nation to become strong in soccer. As China aspires to develop its soccer capacity, we want to be a part of it and help with training the young," Rummenigge said.
Bayern Munich also plans to open more soccer schools in China and is in talks with partners and sponsors.
In addition to the German club, Spain's Barcelona and England's Manchester United also have expanded their presence in China through preseason tours and academy operations, eyeing a growing number of fans, more retail sales of branded accessories such as jerseys, more sponsorship opportunities and soccer academy operations.
A Barcelona-backed academy will open in Haikou, Hainan province, this summer.
For Bayern Munich, the more than 130 million soccer fans in China - more than Germany's population - means that there will be opportunities for commercial success, the club said.
"There are huge opportunities in China's e-commerce market. In China, we may offer tailor-made products and services to Chinese followers of Bayern Munich," said Rouven Kasper, managing director of FC Bayern Munich (Shanghai) Co.
"Particularly, we would love to see more local sponsors just like what we have seen in the US market. We have been collaborating with five US sponsors after we reached to the market," he said.
Bayern Munich will play two preseason matches in China before moving on to Singapore in July, according to the club.