Sorting waste may help save money, prevent pollution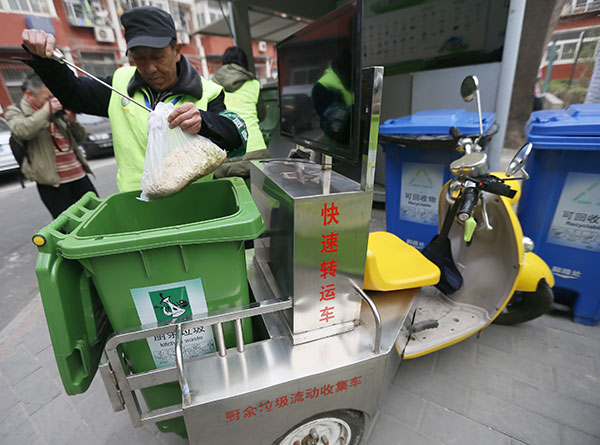 A sanitation worker collects kitchen waste in a residential area in Beijing's Chaoyang district on Wednesday.Cao Boyuan / For China Daily
Beijing could save hundreds of millions of yuan a year by introducing policies on sorting household waste and reducing the amount of garbage that is incinerated, new research has found.
The annual social cost of the capital burning household trash is about 2 billion yuan ($294 million), according to a report released on Wednesday by the Beijing Academy of Development and Strategy.
However, the academy, which is affiliated to Renmin University of China, estimates this could be cut by as much as 64 percent by revamping waste treatment and introducing a classification system.
"The social cost refers to the government subsidies for incinerators and the damage done to public health," said Song Guojun, an author of the report and head of Renmin University's Institute for Environmental Policy and Planning.
Beijing has three incinerators and is building another eight, he said, adding that by the end of this year or early next year, the proportion of trash that is burned will peak at nearly 60 percent.
"Once the incinerators are built, they not only bring environmental risks, but also cause a huge waste of public finances and resources, and damage health," Song said.
The report forecasts that 11 garbage incinerators will lead to a combined social cost of 37.3 billion yuan a year, equal to 6,250 yuan a metric ton, when the new ones go into operation.
Wang Canfa, head of China University of Political Science and Law's Environmental Law Institute, said the report shows that policymakers should be more determined to promote garbage classification.
Through classified collection, storage, transportation and treatment of household refuse, Beijing will effectively reduce the quantity of waste that needs to be burned and increase the recycling and reuse of the waste, Wang said.
"Burning is the easiest way to treat household garbage, and some departments tend to build incinerators because it can bring economic benefits," Wang said.
Xue Tao, deputy director of the Institute of E20, an environment platform, said the direct cost for burning garbage can be as low as 30 yuan a ton, which means there are healthy profits provided government continues to give incinerators large subsidies.
"Because of the low costs and high profits, the number of the incinerators will continue to increase over the next two years," Xue said.
He suggested garbage classification should be done as soon as possible.
A government official who attended a meeting to release the report and did not want to be named said that waste treatment is not a simple math problem. The government has been working on various ways to deal with the issue, he said.