Repairs to delay Capital Airport flights
The number of flights landing and taking off from Beijing Capital International Airport will be cut by more than 300 a day in April to allow for runway maintenance, officials said on Wednesday.
The world's second busiest airport will close one of its three runways between April 2 and April 29, the officials said. About 40 percent of flights take off or land on this runway every day.
The closure will reduce flights by about 20 percent and passengers by 10 percent to 15 percent, according to Sun Xiaoyi, deputy general manager of the airport's service promotion department.
She said passengers who had booked tickets in advance should check with their airlines about any changes to their flights. Flights could be further delayed by bad weather, Sun said, asking passengers for their understanding.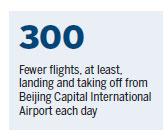 "Flights are expected to be full and passengers should arrive at the airport earlier than usual," she said.
Wang Yanling, business manager of the airport's operation control center, said the runway being closed is the middle one of three runways.
"The closure may increase the distance some flights will need to taxi and therefore prolong passengers' time sitting in planes when they take off and land," she said, adding passengers may have to wait about 10 extra minutes. The average taxi time now is 27 minutes before takeoff, she said.
During the maintenance work, the airport will handle 70 flights an hour during rush hours and about 1,430 flights a day. Freight flights also will be affected.
The project covers nearly 200,000 square meters, with a total cost of up to 172 million yuan ($25 million).
The runway, in service since 1958, was the first at the capital's airport. It went through a thorough maintenance construction in 1996 and was shut down again in 2015 for six days.
"The runway was designed for usage for 10 years since 1996 but it has been put in service for more than 20 years," said Chen Long, deputy general manager of the airport's construction projects and management center.
"The maintenance is for safety. The runway is very old and became dilapidated due to heavy traffic. Some areas even have cracks. Gravel from cracks could enter engines, which may cause a severe safety hazard," he said.