Two wheels or four, sharing is caring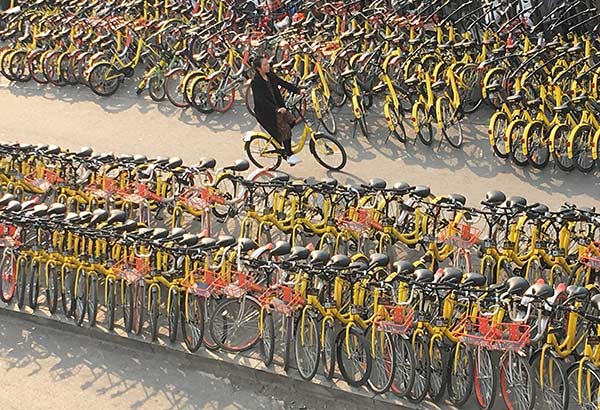 A woman rides a shared bike through a parking zone in Beijing on Wednesday. The zone is filled with yellow Ofo bikes and Mobike's silver-and-orange ones.Wu Changqing / For China Daily
Within seconds of scanning the QR code on a bicycle, it was unlocked and Ouyang Huiyu, a student at Tsinghua University in Beijing, cycled off across campus.
The university covers a vast 28 hectares, which makes biking a crucial part of daily campus life.
"Bicycles are the easiest way to get about," said Ouyang.
Bicycle-sharing services lighten the burden on China's public transportation system and have the added benefits of making the first or final kilometers of a commute a more pleasant and healthier experience.
"We now have 15 million users in 40 cities, with more than 200 million completed rides," said Dai Wei, founder and CEO of Ofo, one of the biggest bike-sharing service providers. "We expect to have 20 million bicycles on the streets this year in at least 200 cities."
Back to the future
Last weekend, Zhao Li biked from Beijing's CBD to the Forbidden City with her friend.
"It's environmentally friendly and biking used to be an important part of life in Beijing. Shared bicycles are bringing it back into fashion," Zhao said.
According to BigData-Research, a Beijing-based research institute, 19 million people used shared bikes last year and that number is expected to rise to 50 million this year.
Ofo is the biggest service provider with 800,000 distinctive yellow bicycles throughout China; in second place, Mobike's silver and orange bikes number 600,000. Most users are around the age of 30.
The market is still growing. U-Bicycle, founded in July, occupies three cities in Guangdong province. U-Bicycle is working closely with Alibaba's Sesame Credit to reward proper usage. Good sharers increase their credit score and if their score reaches a certain level, they can use the service without paying a deposit.
Global business cycle
China's bicycle-sharing is heading overseas. Bluegogo became the first in January, according to Sun Ye, its chief operating officer. "We are operating in San Francisco, where our customer base is steadily growing," he said.
Founded in November last year, Bluegogo now covers six Chinese cities with 5 million registered users.
Ofo is heading to Singapore and London, as well as Silicon Valley in California.
"We hope to introduce dockless bicycle-sharing overseas. There is no reason why it should not be as popular in other countries, too," said Tang Ke, deputy public relations director at Ofo.
At home, Ofo is working with more than 200 colleges in China to provide bicycles for students.
Two wheels or four
A popular car-sharing provider, EZZY, has a fleet of about 500 electric cars, including the BMWi3.
Rapid urbanization, ballooning internet use and huge numbers of comparatively new driving permit holders are a perfect storm for car-sharing, said Fu Qiang, founder of EZZY.
While most shared cars have to be picked up and returned to designated stations, EZZY users can leave the cars in any parking lot in urban Beijing. EZZY staff conduct maintenance overnight, charge the vehicle and clean it, Fu said.
EVCARD, an electric-car-sharing program launched by SAIC Motor Co in 2013, has close to 400,000 registered users and 9,000 cars across China.
EVCARD now has 2,600 parking spaces in Shanghai. "We plan to share our spaces and charging posts with other cars," said Chen Jing, marketing manager of EVCARD. "This is what sharing is all about."