Hospitals look to reverse male nurse shortfall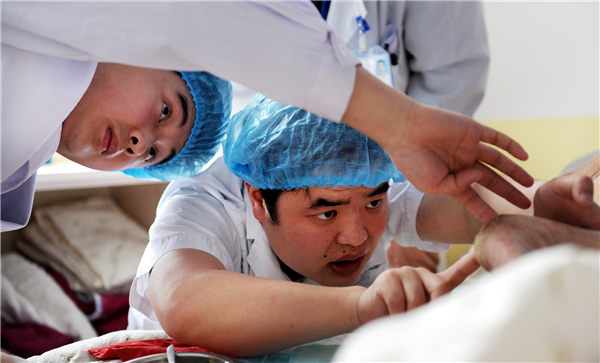 Wu Xufeng (right) treats a patient in the intensive care unit at the Hefei Binhu Hospital, Anhui province.[Photo by GAO BO/FOR CHINA DAILY]
Traditional views and prejudice are discouraging men from entering the nursing profession. Zhu Lixin reports from Hefei.
Suo Xiaolong, a sophomore majoring in nursing at Hefei Vocational and Technical College, is busy preparing for a provincial nursing skills contest later this month.
The college, based in the capital of Anhui province in East China, first allowed male students to enroll in 2002, but this is the first time a male student has been chosen to represent it at the competition.
Fewer than 100 of the 3,000 students on Suo's three-year course are male, but even so, he is an exception among his peers because he had set his heart on a career in nursing before entering college.
"Most of the other boys didn't choose the major; they were adjusted to it," said Sun Meilan, vice-president of the college's school of medicine.
According to the National Health and Family Planning Commission, by the end of 2002, there were 1.25 million nurses in China, but just 1.7 percent of them were men. By the end of 2014, the numbers had climbed to 3 million and 1.9 percent, respectively.
During a seminar last year, Cheng Gen, director of the Male Nurse Committee, founded in 2014 by the Chinese Nursing Association, estimated that the percentage of male nurses in 2015 would be no different from the previous year.
Suo is confident about his future career prospects because his tutors have emphasized that the employment rate for male nursing graduates is high. However, no matter how high his level of skill, the 23-year-old will still have to contend with traditional notions that nursing is not a suitable profession for men.