Beijing tax authorities retrieve 60 million yuan from live streaming hosts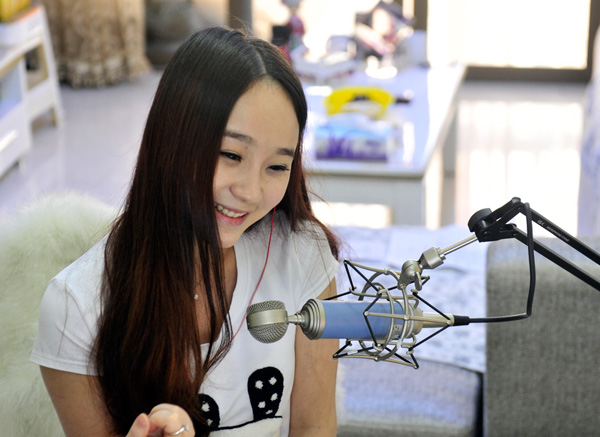 A hostess in a live streaming broadcast. [Photo/VCG]
More than 60 million yuan ($8.7 million) has been retrieved by the Beijing Chaoyang Local Taxation Bureau from a live streaming platform that had failed to deduct tax from its live streaming hosts in 2016, reported Beijing Youth Daily on Tuesday.
The streaming platform paid its hosts 390 million yuan in 2016.
Staff members in the tax bureau told said they took advantage of "big data" to track how much money was owed, and now have systems in place regarding newly emerged industries such as live streaming platforms.
By downloading the platform's APP and posing as viewers, staff members mastered the operation system of the platform. They found that the declared incomes of the company didn't include incomes that were given to live streaming hosts and the platform didn't pay tax for the hosts.
It is common for a popular host to earn 10,000 yuan a month.
One live streaming hostess nicknamed Xiaomei sings and chats with her fans every evening. During the live streaming period, many fans will award Xiaomei with virtual gifts including a "sea-view house" or a "sports car" which can be turned into real money. A sports car is equal to 120 yuan and it is estimated that Xiaomei was earning roughly 20,000 yuan a month.
Though some of the money awarded by fans will be deducted by the platform, a considerable amount of money will go to the pocket of the live streaming hosts. However, the tax payment becomes a very tricky problem, as currently only part of the live streaming platforms pay income tax for the hosts.
According to several reports issued by third party organizations in 2016, there are over 200 live streaming companies in China. The market scale reached 9 billion yuan, and the account numbers on live streaming platforms reached 200 million.
By law, live streaming hosts must register using their real name, ID and phone number, according to a regulation on live streaming services issued by the Cyberspace Administration of China.
Staff members of Beijing Chaoyang Local Taxation Bureau said that the incomes of live streaming hosts include awards by fans, as well as ads incomes, offline business incomes, etc. In order to supervise the tax payment condition for these incomes, tax departments should strengthen supervision of the companies that live streaming hosts belong to.
According to Yu Chao, lawyer of Capital Equity Legal Group, the live streaming hosts should pay individual income tax. The law on individual income tax in China stipulates that individuals should pay tax on their earnings. Live streaming hosts, as taxpayers, should pay income tax and platforms as withholding agents should ensure tax payment.
Yue Yunsheng, director of Beijing Yue Cheng Law Firm, said that "awards from fans" is a newly emerging sector, and the law on individual income payment should have corresponding amendments in time.