Nuclear heating touted as cleaner
As China aims to reduce coal consumption to curb pollution, those in the nuclear industry have called for construction of low-temperature mini reactors to provide cleaner heating for residential use in North China.
Citing safety, flexibility and efficiency, executives in China's nuclear power sector have pitched the use of small-scale reactors as an alternative heat source in winter to reduce dependence on plants powered by fossil fuel, which create air pollution.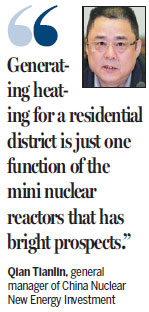 Qian Tianlin, general manager of China Nuclear New Energy Investment, said that the technology of small-scale nuclear reactors, which feature low and controllable core temperatures, is mature enough for trial use.
"Generating heating for a residential district is just one function of the mini nuclear reactors that has bright prospects," Qian said.
"Compared to traditional thermal sources, nuclear reactors could generate heat without carbon emissions and thus should be seriously considered as a replacement for coal-burning heat," said Qian.
Mini reactors have less electricity output than conventional reactors, but are made of modules that can be installed on site.
Wang Shoujun, chairman of China National Nuclear Corp, said that China's first small reactor developed by CNNC for practical use, the ACP100, is expected to be built in Changjiang Li autonomous county, Hainan province, at the end of 2017 with a unit capacity of 125,000 kilowatts, about one-tenth of a conventional nuclear plant.
The operation of such mini reactors is secure because of the much lower core temperature and internal pressure than a typical reactor, said Wan Gang, head of the China Institute of Atomic Energy.
"Technically, it is safe for civilian use in urban areas at the moment," Wan said.
"It could be installed in a pool to be maintained within a safe temperature in water. The potential radiation in the coolant could be blocked with a device installed between the reactor loop and the thermal pipeline, which only allows heat exchange," he added.
However, before the technology is implemented on a large scale, mounting public concern over nuclear safety following the 2011 Fukushima nuclear disaster in Japan must be addressed, Wan said.
sunxiaochen@chinadaily.com.cn