Aging population sparks dementia concerns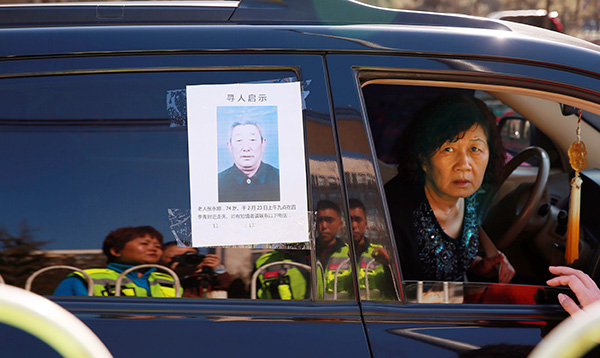 A relative conducts a search for a missing senior, whose details are posted on her car window.[Photo by Zou Hong/China Daily]
A growing number of families are facing the challenge of caring for seniors with fading mental abilities. Chen Mengwei reports.
China's economic rise has brought many benefits, such as higher living standards, improved nutrition, better overall health and longer lives.
However, with the population aging rapidly and life expectancy rising to previously unseen levels, a growing number of families are caring for seniors with dementia.
More than 1,370 people age 60 or older lose their bearings and go missing every day, according to the China White Paper on the Lost Elderly, a research project conducted by the Zhongmin Social Assistance Institute, an NGO, and the online news aggregator Toutiao. Dementia was cited as a leading factor in the disappearances.
According to the author of the report, Xiong Guibin, a professor of social work at the China Youth University of Political Study, about 72 percent of senior citizens who are reported missing have defective memories, while 25 percent have Alzheimer's disease.
Dementia deprives people of the ability to remember recent events or recognize their immediate surroundings. Alzheimer's, one of the most widely seen forms of dementia, affects about 6 percent of Chinese people age 65 and older, accounting for 60 to 70 percent of all cases of dementia in the country, according to Alzheimer's Disease International, a federation of Alzheimer's associations around the world.
At the end of 2015, more than 222 million people in China-about 16 percent of the population-were age 60 or older, while average life expectancy had risen to 76 years. In years gone by, when life expectancy was lower, many people who may have been genetically disposed to contract the disease died before its onset, but now, as people live longer, the number of affected families is growing.
Conference proposal
More than 40 million Chinese seniors have dementia or some form of physical disability. The problem affects more than 100 million families, according to a proposal urging tax breaks for the families of people with dementia or disabilities brought before the Chinese People's Political Consultative Conference by the All-China Women's Federation.
In addition, the China National Working Commission on Aging predicts that by 2033, the country will be home to 400 million people age 60 or older, and the number will grow at a rate of 10 million a year. In other words, senior citizens are likely to account for more than one-third of the population by 2050.
China has a population of nearly 1.4 billion, and about 10 million people have dementia, a proportion similar to the international average, according to Zhang Junjian, director of the neurology department at the Zhongnan Hospital of Wuhan University in Hubei province.
The average age of the onset of dementia has fallen to 55, 10 years earlier than two decades ago, according to Zhang, who also serves as vice-chairman of the committee of Alzheimer's Disease Chinese, the Chinese branch of Alzheimer's Disease International. He said the reason for the decline remains unclear.
Lost and confused
When police officers and a group of volunteers eventually found Zhang Fengyun, the 81-year-old-who had recently been diagnosed with Alzheimer's-was unable to stand unaided.
Wearing a thin sports jacket and carrying a large plastic bag full of garbage she had collected along the way, the gray-haired senior had spent a bitterly cold January day and night sitting on a curbstone in Beijing.
Even though she had not eaten since leaving the family home more than 32 hours earlier, Zhang rejected food the police offered her until her family arrived.
"One night is her limit. My mother could have passed away at any moment if the search team had not found her," said Cheng Junfeng, Zhang's daughter, who spent a sleepless night worrying about her mother. The rescue team that helped the police to find Zhang-the Beijing Zhiyuan Emergency Service Center, founded in 2014-has a 100 percent success rate, and so far the volunteer group has helped to locate more than 100 missing seniors.
The group, the first registered volunteer organization dedicated to locating missing seniors in the capital, was founded by Su Xiao, a former captain in the People's Liberation Army Airborne Corps. Su used his experience of searching for people in mountainous areas to develop procedures to locate missing seniors in Beijing.
Every member of the squad, comprising a cross-section of society from college graduates to retirees, has been trained by Su. They refuse to accept cash gifts or other rewards for their volunteer work, even when people insist. After her mother had been found, Cheng sent the volunteers an electronic red envelope containing cash via WeChat, but no one opened it to claim the money.
A break with tradition
At one time, locating a missing person was done the traditional way-by working with the police, examining surveillance videos, handing out information about the missing person and conducting targeted ground searches.
The methods used by Su revolve around a new tool; a location-based, GPS-enabled internet search app developed by Toutiao last year.